Why tennis legends are playing in the Pickleball Slam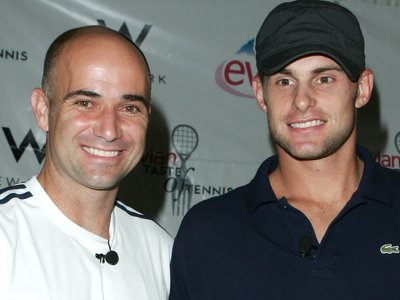 For years, pickleball has been widely referred to as the fastest-growing sport in America. Now, it's making its debut on the biggest stage.
Four American tennis legends will compete in a made-for-TV event Sunday, April 2, on ESPN. The Pickleball Slam will feature Andre Agassi, Andy Roddick, John McEnroe and Michael Chang going head-to-head for a $1 million grand prize. For one of the first times ever, a sport that has previously been reserved for small neighborhood and backyard courts will be broadcast into the homes of millions of viewers across the United States.
MORE: Who is the world No.1 in men's tennis? Updated ATP rankings
The sport was invented on Bainbridge Island, Wash., in 1965, but it has skyrocketed in popularity in recent years. According to Pickleheads.com, participation has grown a whopping 158.6 percent, on average, over the past three years.
Pickleball's 158.6% increase is so large that including the sport in the scatter plot visualization below renders the rest of the chart unreadable. https://t.co/3XLwqnKKrm pic.twitter.com/4n2qGNxT23— Sportico (@Sportico)
So what can viewers expect from the Pickleball Slam? Here's everything you need to know ahead of the event:
Agassi, Roddick, McEnroe and Chang will be at Seminole Hard Rock Hotel and Casino in Hollywood, Fla., to compete in the event. A $1 million cash purse will be on the line as the four retired stars go head-to-head.
MORE: Who is the GOAT of men's tennis?
The event format will feature two teams, with McEnroe and Chang pairing up against Agassi and Roddick. First, there will be two singles matches: Roddick vs. Chang and McEnroe vs. Agassi. Each singles winner will earn one point for their team. The event will conclude with a doubles match, with the victorious team receiving two points. Whoever finishes with the most points will win the $1 million.
This weekend, ESPN presents #ThePickleballSlam as 4 tennis champs - @AndreAgassi, @MichaelChang89, @JohnMcEnroe & @andyroddick - compete for $1M📍 Live from @HardRockHolly🎙 With @cbfowler & @PatrickMcEnroe on the callSunday | Noon ET | ESPNMore: https://t.co/iFEas0xef3 pic.twitter.com/KA1UQOHTNO— ESPN PR (@ESPNPR)
The four competitors have 17 Grand Slam singles titles between them. McEnroe is the oldest competitor in the field at 64, followed by Agassi at 52, Chang at 51 and Roddick at 40.
MORE: Why John McEnroe wasn't at Australian Open
In addition to the $1 million cash purse, each of the four players will be competing for $100,000 in charitable donations. Each player will start with $25,000 to donate, but they can wager that money with other players throughout the event. For example, a player could bet $10,000 on holding serve before a game. If they win the bet, their opponent has to pay them $10,000 to donate to their selected charity.
ESPN has streamed pickleball online before and broadcast it on its secondary channel ESPN2, but this marks the first time it will be televised nationally on the company's flagship channel. Coverage will begin at noon ET, with the network's top tennis commentary duo of Chris Fowler and Patrick McEnroe on the call.