Big numbers and Twitter reactions from LSU's Final Four win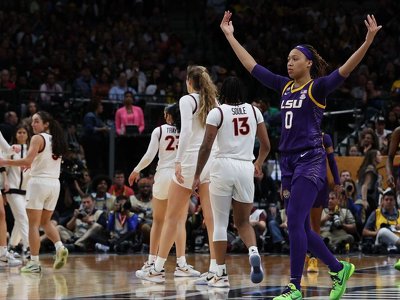 The LSU Tigers are off to the 2023 NCAA tournament women's national championship game after a 79-72 win over the Virginia Tech Hokies on Friday night in Dallas.
With the win, the Tigers advanced to their first national championship game in school history. After falling behind early, Virginia Tech went on an 11-0 run to end the first half. The Tigers went on their own run in the second half and pulled away in the fourth quarter to book a place in Sunday's title game.
LSU coach Kim Mulkey, who won three titles with the Baylor Bears, joins C. Vivian Stringer as the only coaches to take two teams to national title games.
24: Virginia Tech's Georgia Amoore broke the record for most 3-pointers in a single NCAA tournament. The previous record was 22, held by Kia Nurse in 2017 and Aari McDonald in 2021.
100/70/10/10: LSU's Angel Reese has scored 113 points with 81 rebounds, 14 blocks and 13 steals in this NCAA tournament. She is the first player in tournament history to have 100 points, 70 rebounds, 10 blocks and 10 steals in a single NCAA tournament.
33: Reese notched her 33rd double-double of the season with 24 points and 12 rebounds on Friday. She has now tied the NCAA single-season record for double-doubles in a season.
1997: LSU will go to the national title game as a No. 3 seed. The last No. 3 to reach the title game was the Arizona Wildcats in 2021. The last to win a title as a No. 3 seed was the 1997 Tennessee Lady Volunteers.
Hoops fans and LSU supporters took to social media to celebrate the win.
geaux tigerssss😘— Angel Reese (@Reese10Angel)
Let's get it @LSUwbkb— Greedy Williams (@Greedy)
Congratulations to @LSUwbkb on advancing to the National Championship from Alex Box Stadium!#GeauxTigers | SECN pic.twitter.com/Df2qUvdKw9— LSU Baseball (@LSUbaseball)
Special.@LSUwbkb | #WFinalFour pic.twitter.com/pjciEEpDKt— SportsCenter (@SportsCenter)
Let's go @LSUwbkb and @KimMulkey! On to the national championship game. Geaux Tigers! pic.twitter.com/9T58YAcT2Y— Brian Kelly (@CoachBrianKelly)
ALL FOR LSU pic.twitter.com/dIwrC7s6RV— LSU Women's Basketball (@LSUwbkb)
Go Tigahs!!!! One more! @LSUwbkb— Alan Faneca (@afan66)
ANGELLLLLLLL babyyyyyy you the truth 💜💛— Tc2 (@TeaCooper2)
LSU really turned it up in the 4th. What a turn of events. A lot of action in the paint— Renee Montgomery (@ReneeMontgomery)
I'm so happy for them man— Tc2 (@TeaCooper2)
KIM MULKEY BEEN THAT GIRL, STILL DAT GIRRRRLLL!!!! TALK ABOUT IT🗣️🗣️🗣️— 𝐋𝐀𝐍𝐈. (@kalanibrown21)
Research from ESPN Stats and Information was used in this story.