Caitlin Clark taunts South Carolina in Final Four by leaving player alone at 3-point line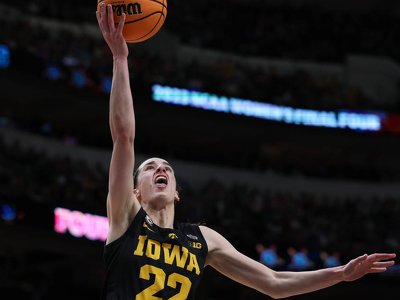 Caitlin Clark is known for her antics on the court, both in the way she celebrates plays and the way she taunts opponents.
MORE: Live updates, highlights from Iowa-South Carolina
In the first half of Iowa's women's Final Four game against South Carolina on Friday night, she left Raven Johnson all alone behind the arc, waving her off with a limp hand without making eye contact, as if to say, "I don't care about you, I'm not defending you."
Johnson did not shoot, instead passing the ball along the perimeter.
Caitlin Clark just waved her off 😂pic.twitter.com/g8m1aAb2DY— The Sporting News (@sportingnews)
Fans are calling the disrespect from Clark to Johnson simply "beautiful" and "a cheat code" to confidence in a game like this.
They're also calling Clark "her," as in she's that woman, and saying she's "with the fans" on this one, hungry for victory.
Caitlin Clark is her™️ https://t.co/JbIV4UdgOG— Ally Whiting (@allygator93)
The disrespect is beautiful. https://t.co/j9I870ekq1— Can't Read, Can't Write (@spartan_pod)
she's a cheat code 🔥 https://t.co/wakAJMaqP8— opening day megan ⚾️ (@3x5)
Clark had 19 points in the first half despite picking up two fouls. Iowa led undefeated defending national champion South Carolina 38-37 at intermission.