Connecticut-Miami Final Four DraftKings Showdown lineup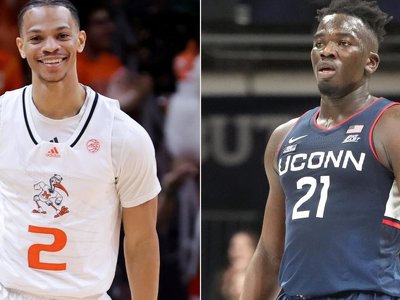 Fourth-seeded Connecticut (-5.5) attempts to reach the National Championship for the first time since 2014, and despite owning a +90 point differential through four games, defeating the fifth-seeded Miami Hurricanes will likely be the Huskies' toughest test to date. For DFS players searching for showdown lineup advice, we've handpicked our favorite selections for Saturday night's bout on the hardwood, aiming to help you land in the money once the final buzzer sounds.
Since we're ultimately expecting the Huskies to outduel the Hurricanes, our showdown lineup features a Connecticut-heavy build with four UConn players. It also includes a cheaper-priced Captain selection which gives us the flexibility to craft a well-rounded lineup.
Before we break down all of our picks, here are the most notable scoring rules for DraftKings Showdown contests: Made three-point shot (+0.5 points), rebound (+1.25 points), assists (+1.5 points), steals and blocks (+2 points), double-double (+1.5 points -- max one per player) and triple-double (+3 points -- max one player). Additionally, the Captain pick costs 1.5 times a player's original price, but he also gets his point total multiplied by 1.5.
$50,000 budget, need at least one player from each team.
Captain (1.5x points, 1.5x salary): G Andre Jackson Jr., Connecticut ($11,700)
We'll start our Showdown lineup with Connecticut's do-everything swingman in the Captain spot. Jackson Jr.'s ability to aid in multiple facets of the game makes him a valuable Captain pick at just $11,700. It's unlikely he scores upwards of 15-plus points given he's not one of the Huskies' top offensive weapons, but he's an elite cutter who always gets himself in favorable positions to score easy buckets. Jackson can also hold his own on the boards and does a solid job of finding the open man, averaging 6.4 rebounds and 4.7 assists per game.
MORE UCONN-MIAMI: Betting Preview | Same Game Parlay
UTIL Adama Sanogo, Connecticut ($9,800)
Sanogo's the Huskies' most utilized offensive piece, taking a shot on nearly 30 percent of possessions when on the floor, which is a good sign against a Hurricanes' interior defense allowing opponents to shoot 51.6 percent from two-point territory (246th in D-1). The 6-9 senior didn't have an efficient game against Gonzaga in the Elite Eight, scoring only 10 points on three-of-11 shooting, but still finished with 34.2 DK points on a "down" offensive day. Given he'll play close to 30 minutes, DFS players can expect a double-double from the First Team All-Big East forward that'll likely translate into at minimum 30 DK points.
UTIL Jordan Miller, Miami ($9,000)
We'll gladly ante up $9,000 to roster Miller who's one of the nation's most efficient scorers and enters off an all-time effort in the 'Canes Elite Eight victory. Miller's unlikely to go perfect from the field and charity stripe for a second consecutive game, but DFS players can still have a high bar for the 6-7 senior due to his ability to consistently get high-percentage looks. Miller's a tough guard off the bounce and with big man Norchad Omier likely drawing Sanogo on the defensive end, Miller could feast against the Huskies' wings. Jackson Jr. likely draws Miller on the defensive end, and while he's tough to score on, Miller's got the size advantage and should still get his.
UTIL Isaiah Wong, Miami ($8,200)
Wong's another tough cover for the Huskies' defense who could also have success creating off the bounce. Wong's three-level scoring abilities give him an opportunity to score close to 20-plus points in what's projected to be a high-scoring contest (over/under 149.5 points). He's as consistent as it comes in DFS land, averaging 29.9 DK points per game, and has averaged right around that mark through four tournament games (27.45 DK points).
UTIL Jordan Hawkins, Connecticut ($7,400)
Even with Hawkins missing Connecticut's Friday practice dealing with an illness, we'll still ride with the Huskies' second-leading scorer to show out on Saturday night. The Huskies always find creative ways to give their dead-eye shooter just the tiniest amount of space to get his shot off, and Hawkins' microwave abilities always make him an enticing add in Showdown contests. Hawkins is shooting almost 39 percent from three on high volume (104-of-270) and could realistically knock in four-to-five threes on Saturday night.
UTIL Joey Calcaterra, Connecticut ($3,400)
Calcaterra's one of the Huskies' other lethal floor spacers, and while we're not expecting an other-worldly performance from the San Diego transfer, he's got a chance to help our lineup with 15-plus DK points. He's been the Huskies' best three-point shooter by percentage, canning 44 percent of his threes (47-of-107) but is amid a bit of a cold spell, sinking just seven of his past 22 three-point attempts (32 percent). Look for him to attempt around four-to-five threes, and if he's able to make two of them while grabbing a couple of rebounds, our Showdown lineup will be in a solid position to end the night in the money.