Inside the Caitlin Clark-Patrick Mahomes mutual admiration society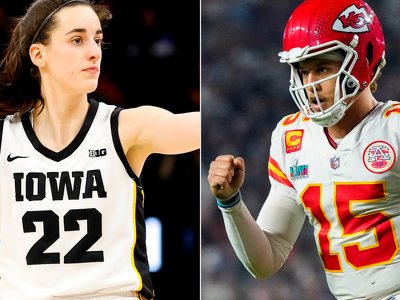 Caitlin Clark has never been afraid to express admiration for her idols during her college basketball career.
Recently, Clark got a chance to meet WNBA legend Sue Bird before competing in one of Iowa's NCAA Tournament games.
Her reaction — as well as that of her teammates — to meeting Bird was pure gold.
MORE: Caitlin Clark has perfect reaction to meeting WNBA legend Sue Bird
It's safe to assume that Clark would have a similar reaction to meeting Chiefs quarterback Patrick Mahomes.
Clark revealed in a January interview with Chad Leistikow's Hawk Central radio show that she is a big Chiefs fan and she greatly admires Mahomes. She also expressed a desire to meet him someday.
"I've never met him," Clark said. "I wish."
Clark may eventually get that wish. The admiration between Mahomes and her is mutual, and it could lead to the Chiefs quarterback attending a Hawkeyes game.
TSN's MARCH MADNESS HQLive NCAA bracket | TV schedule | Predictor tool
Clark explained to Leistikow that while she hasn't met Mahomes, she spoke to him on social media on occasion.
And in those correspondences, Clark explained that Mahomes told her he wanted to see her play in person.
"Patrick has DM'd me on Twitter before, like, 'I'm a big fan of you. I'm going to try to come to a game,'" Clar said. "I don't know if he's actually going to ever do that, but, hey, if he wants to, courtside at Carver. Let's make it happen."
Clark also admitted that she was a bit starstruck when Mahomes first reached out to her.
I was like, what? Patrick Mahomes? He's the one, he's Him. He's awesome.
Indeed, Mahomes is "awesome," as he is coming off an MVP season, the second of his career, and helped the Chiefs win Super Bowl 57 over the Eagles. He has won two Super Bowls in five seasons as a starter and is inarguably the best quarterback in the NFL today.
But Clark certainly is no slouch either. She won the Naismith National Player of the Year award after averaging 27.3 points, 7.3 rebounds and 8.6 assists per game for the Hawkeyes. She has averaged at least 26.6 points per game in each of her three collegiate seasons and has a chance to lead the Iowa women to their first national championship in team history.
MORE: John Cena has perfect reaction to Caitlin Clark's 'You Can't See Me' taunt
Thus, it's easy to see why Clark and Mahomes share a mutual respect. They are among the best athletes in their respective sports.
That's why they have been so willing to praise one another, as demonstrated by this Twitter exchange between the two.
Dawg!!! @CaitlinClark22 https://t.co/Fcg7zEW7CB— Patrick Mahomes II (@PatrickMahomes)
My boyyy🐐🐐🐐 https://t.co/rYsoJWdozd— Caitlin Clark (@CaitlinClark22)
MORE: What year is Caitlin Clark?
Of course, Clark's interactions with Mahomes have a slight extra meaning to her, as she grew up as a fan of the Chiefs.
How did that happen? She credited her father for instilling that fandom within her as she grew up in Des Moines.
"I kind of was just born with it, because my dad was always a big Chiefs fan," Clark said. "So then, my brother was, so then I had to be. But, like, we had a Chiefs vending machine in the basement at home, so like we're true fans. You know those fake play helmets? We had like those Chiefs fake play helmets. We love the Chiefs and we have family in Kansas City, so we would go down for games when we were younger."
Clark got a chance to go to the Chiefs vs. Seahawks Christmas Eve game in 2022 after meeting general manager Brett Veach in Indianapolis during the 2022 NFL Combine. Kansas City beat Seattle 24-10, and the Clark clan enjoyed the contest.
"We were on the field before the game," Clark said. "It was pretty cool."
So, she has seen Mahomes play live, and it seems like it will only be a matter of time before the Chiefs quarterback returns the favor.