Final Four 2023 Market Report: Line movement, betting handles, & more from BetMGM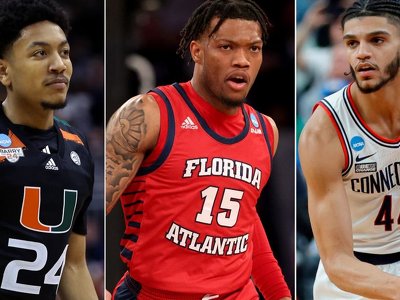 We're nearing the tipoff of the 2023 Final Four, and before San Diego State, Florida Atlantic, Connecticut, and Miami lace up inside NRG Stadium, we're taking you on an inside look at how BetMGM's markets have progressed since each team punched its ticket to Houston.
Given there's a large enough sample size of game data, there hasn't been too seismic of a shift relative to the moneylines, spreads, and totals for both National Semifinal games. That's not the case in the futures markets, though, with the four competing schools seeing their championship odds drastically increase throughout their deep tournament runs.
Inside each of the four locker rooms, it's not surprising to them that they've made it this far in the NCAA Tournament, but for bettors and sportsbooks, the past few weeks have been sheer madness. Will we continue to see more upsets this weekend?
Let's take a peek into BetMGM's Final Four betting data ahead of tomorrow's action.
FINAL FOUR BETTING PREVIEWS: UConn-Miami | FAU-SDSU
Per BetMGM, in terms of bets placed (tickets), bettors are hoping both underdogs eke out wins to advance to the National Championship, with Florida Atlantic's (+130) and Miami's (+200) moneylines drawing public interest. Additionally, only the SDSU-FAU spread has moved since opening, with the Aztecs ticking up to 2.5-point favorites after opening at -1.5. The UConn-Miami spread has stayed put, with the Huskies currently laying 5.5-points.
As it currently stands, the Owls' moneyline has drawn 64 percent of the total bets placed but has only garnered 31 percent of the total handle bet on the game. FAU bettors hope the Owls' three-point shooting-heavy style of play results in an efficient three-point shooting output against a stout SDSU perimeter defense.
In SDSU's two wins last weekend, the Aztecs held Alabama and Creighton to a combined 5-of-44 shooting from three (11.36 percent), and against an FAU squad who hoists a three on 44 percent of their field goal attempts, FAU will likely need to shoot at a significantly higher clip to advance to the title game.
For Miami's bout with Connecticut, 63 percent of the total moneyline tickets bet on the game have come in on the Hurricanes. Miami could care less that they're in the underdog role on Saturday night, winning outright as underdogs in their past three tournament games.
If Miami's able to keep things close with Connecticut down the stretch, one has to like the Hurricanes' chances to pull the upset, given they're a better one-on-one scoring team with several players capable of creating their own shot.
Regarding both games' totals, the over/under in SDSU-FAU is drawing good two-way action and hasn't moved since opening at 131.5, a good indication of a sharp total. UConn-Miami's total has seen some OVER money come in, rising from 148.5 to 149.5 due to 79 percent of the handle wagered on the OVER.
Given both offenses rank in the top five in KenPom's adjusted offensive efficiency metric, betting on offensive success makes sense.
MORE FINAL FOUR: DFS lineup | SGP | Best bets
According to BetMGM Sports Trader Seamus Magee, "This has been a great NCAA Tournament for BetMGM, with no significant future liabilities remaining heading into the Final Four. Bettors are showing strong support for UConn and the Huskies winning it all could become a bad outcome for the sportsbook."
While BetMGM lucked out with their two most significant National Championship liabilities, Alabama and Texas, bowing out in the second weekend, the Huskies sit as their third-biggest liability. UConn's seen their National Title odds move from +6600 to -125, a 54.07 percent shift in terms of its implied probability to capture its fifth National Championship in school history.
The other three schools have also seen a large shift in their National Championship odds. Florida Atlantic entered the tournament with a 250-1 price tag and now sits at 6.25-1. San Diego State had 80-1 odds and now has the second-best odds to cut down the nets at +375.
While there's a chance Miami closes as slight favorites against San Diego State in a potential National Championship matchup, the Hurricanes currently have the third-best odds to win at all (+375) since they're first tasked with slaying the odds-on favorite, Connecticut.
What's your approach to betting into the futures market? Ride with the soaring Owls to get the best potential payday, or bet the chalk and roll with the Huskies to continue their dominance? Rely on the Aztecs' defense to lead it to a National Title, or bank on Miami's offensive prowess to bring a title back to South Beach?