XFL odds, picks, predictions for Week 7: Defenders and Roughnecks among best bets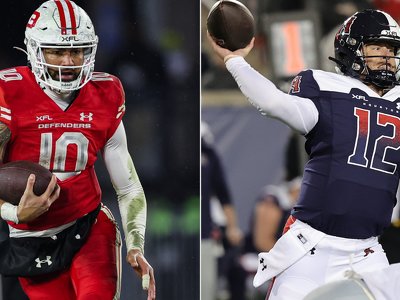 Week 6 in the XFL did not disappoint as the Defenders dominated the Roughnecks to stay undefeated, while the Brahmas kept their playoff hopes alive with a road win over the Renegades. We also saw three favorites win outright on the moneyline last week, with one underdog picking up a win. However, the favorites didn't do well against the spread as they went 2-2, thanks to the Guardians and Brahmas. Even though they are still winless (0-6) this season, the Guardians have been great against the spread (3-3), which is the same ATS record as the Sea Dragons.
Week 7 begins Friday night with the Sea Dragons looking to win their fourth-straight game when they take on the Renegades at 7 p.m. ET (FX). The action continues on Saturday with a doubleheader beginning at 3 p.m. ET between the Brahmas and Vipers, who will have a new QB (Jalan McClendon) starting under center. Then at 6 p.m. ET (ESPN), the undefeated Defenders will go on the road to play the winless Guardians. Finally, the weekend will wrap up with the Battlehawks and Defenders facing off at TDECU Stadium on Sunday at 2 p.m. ET (ESPN).
Below, we'll break down the best Week 7 bets and give out our predictions on how things could shake out across the league:
All odds courtesy of BetMGM
Seattle Sea Dragons at Arlington Renegades
Friday, 7:00 p.m. ET, FX
For the second straight week, the Sea Dragons are road favorites after defeating the Guardians 26-19 last week. Seattle struggled offensively against one of the worst scoring defenses, as they only scored nine points in the first half. Also, starting quarterback Ben DiNucci threw another interception, giving him a league-leading eight this season. DiNucci's turnover issues are becoming worrisome and could hold Seattle back from missing out on the postseason or playing in the XFL championship in May.
DiNucci will try to play a cleaner game on Friday against the Renegades. But it won't be easy, as Arlington's defense has recorded seven interceptions (second-most in the XFL) and returned two for touchdowns this season. While we expect the Renegades' defense to do its job against Seattle, it's hard to trust their offense, which has been one of the worst in the XFL (13.3 points per game). Earlier this week, Arlington released QB Kyle Sloter and acquired Luis Perez in a trade from the Vipers to take his spot. Perez won't start Friday night, meaning we will see Drew Plitt and Kevin Anderson. Plitt hasn't done much under center this season to inspire confidence that he can get this offense out of neutral. That said, we like Seattle to win their fifth-straight game and cover the spread.
Pick: Sea Dragons 21 (-4.5), Guardians 12
San Antonio Brahmas at Vegas Vipers
Saturday, 3:00 p.m. ET, ESPN2
The Vipers are surprisingly three-point favorites over the Brahmas, despite Jalan McClendon making his first start of the season for a banged-up Brett Hundley. Vegas got smacked last week by the Battlehawks, losing 29-6 at home. The Vipers' pass defense allowed St. Louis QB A.J. McCarron to pick them apart for 236 yards and three touchdowns. However, Vegas was able to sack McCarron three times, but it didn't mean anything as they couldn't create any turnovers.
The good news for the Vipers' defense is that they won't be facing an explosive offense this week in San Antonio, which only scores 14.8 points per game. The Brahmas played musical chairs at quarterback last week, giving snaps to Jawon Pass and Kurt Benkert. Pass looked better than Benkert, but no one knows what they will do this week. There's a chance that Jack Coan could play, who is listed as QB1 on the Week 7 depth chart after missing last week's game with an ankle injury. However, Coan doesn't make this Brahmas' offense significantly better. Therefore, we will take the Vipers and the points on Saturday, despite them being 1-5 ATS this season.
Pick: Vipers 20 (-3), Vipers 15
DC Defenders at Orlando Guardians
Saturday, 6:00 p.m. ET, ESPN
The Guardians were supposed to get blown out last week by the Sea Dragons, but they played competitively on both sides of the ball and gave themselves a chance to win late. However, we don't see the same thing playing out this weekend against the Defenders, who are dominating the competition this season. Last week against the Roughnecks, DC dropped 37 points and held Houston's offense in check. QBs Brandon Silvers and Cole McDonald only threw for 288 combined yards, a touchdown, and an interception.
Meanwhile, Defenders QB Jordan Ta'amu completed 19-of-31 passes for 245 yards and two touchdowns. WR Lucky Jackson was one of Ta'amu's favorite targets, recording five receptions (eight targets) for 136 yards and a touchdown. The Defenders were also solid on the ground, with Abram Smith recording 95 yards and a score on 19 carries. Orlando's defense has been solid against the run this season, allowing 84.5 rushing yards per game (fourth-fewest in the XFL). However, QB Quinten Dormady, who played well last week against Seattle, will face an aggressive Defenders' defense that is second in sacks (19) and tied for second in interceptions (7). Look out for DC to win comfortably against an improving Orlando team that will try to pick up its first win in Week 8.
Pick: Defenders 30 (-10), Guardians 18
St. Louis Battlehawks at Houston Roughnecks
Sunday, 2:00 p.m. ET, ESPN
In the final game for Week 7, we have the Battlehawks going on the road for the second-straight week to play the reeling Roughnecks. Houston will look to get back on track after getting smacked by the Defenders last week, which was a good litmus test to see where they stand heading into the last three games of the season.
As for the Battlehawks, they are coming off a good win over a struggling Vipers team. St. Louis needs every win they can get as they are second in the XFL's North division behind the Defenders. If the Battlehawks want to pull off the upset on Sunday, they must protect McCarron. McCarron has been sacked 20 times this season (most in the XFL). Meanwhile, Houston's defense leads the XFL in sacks (20) and has two stellar defensive players -- Trent Harris and Tim Ward, who lead the XFL with six and five sacks. This should be a back-and-forth contest between two good football teams, but the Roughnecks prevail in a close one.
Pick: Roughnecks 25, Battlehawks 23 (+3)