The Sporting News' 2023 WWE WrestleMania 39 writer roundtable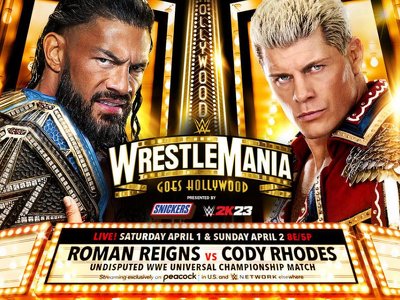 After months of waiting, the road to WrestleMania has finally reached its final destination, SoFi Stadium. WrestleMania 39 weekend has arrived, airing from April 1 to April 2.
Several title fights and grudge bouts are taking place at the event, with showcase matches looking to excite what should be a record-breaking audience in Los Angeles. Various storylines will come to an end, while stars are looking to shine at "The Showcase of the Immortals."
Will Roman Reigns finally be dethroned by Cody Rhodes? What shenanigans will Logan Paul pull in one of the biggest matches of his career?
What are you looking forward to the most?
Sporting News writers Carlan Gay, Andreas Hale, Liam O'Loughlin, and Dan Yanofsky joined forces to chat storylines and offer their predictions.
MORE: All you need to know about WWE WrestleMania 39
Carlan: I'd rate it a solid 8.5. There's enough meat on the bone on both nights. The builds have been solid across the board, and the energy should be there from the crowd, as this feels like the first WrestleMania since the COVID-19 pandemic that people may be excited to travel for.
I think limiting both nights to six or seven matches is going to help the pacing of the show, and we shouldn't run into any fatigue issues, having to sit through a marathon PPV... excuse me, PLE. Night two is a little more stacked, in my opinion. Night one should set the table well. It's been a while, but I'm really looking forward to Mania this year.
Andreas: I'd give this a strong B, maybe a B+. With the exception of Brock Lesnar-Omos (which we all suspect will just be a testament to Lesnar's strength) and the Lashley-Wyatt match that nobody wanted, this has been a very well-handled WrestleMania. All the title matches are intriguing, and there's a potential show-stealer with Seth Rollins-Logan Paul. There will surely be some filler, but the build has been much better than in previous years.
Liam: For me, in terms of build and in-ring potential combined, I'm giving this WrestleMania card a lofty 8/10 rating. The potential for some classic encounters is endless - both women's title matches, the tag title match, Reigns vs. Rhodes, and the Intercontinental Title three-way should all deliver. In terms of the build, the ongoing Bloodline saga will be spread across two matches and will be the culmination of some of the best WWE programming in recent memory.
Elsewhere, the lead-up to the Seth Rollins vs. Logan Paul clash has been somewhat underwhelming, but it features two massive stars. It should be an exciting and athletic showcase for both men, while the U.S. Title match will be a spectacle involving the greatest WWE superstar of all time, John Cena.
MORE: WWE WrestleMania 39 ticket prices
Dan: The entire event is a B+, but heading towards an A-. That all depends on match results from both nights. While the buildup for some matches has been lacking (Charlotte Flair vs. Rhea Ripley, Austin Theory vs. John Cena, Seth Rollins vs. Logan Paul), it would not be surprising to see those bouts deliver (you know you want to see what Paul does next).
The rest of the card looks strong, thanks to solid title bouts and showcase matches. Any story involving The Bloodline has been carrying WWE programming for months, leading to interest by fans not seen before in quite some time. The hope is that all bouts exceed expectations.
Carlan: Dominik Mysterio vs. Rey Mysterio. This match has been building for a while, and has reached the perfect climax for a bout on the big stage, in my opinion. Dominik has turned into an incredible heel, turning on his family.
This match is an important one for Dominik. He has to deliver in the ring, as the build has so much emotion. It also has to deliver in closing this chapter in Dominik's character development so he can take the next step. Dominik's done a great job turning into a villain against his dad, but how does he transfer the heat to someone he's less connected to?
Andreas: The Usos vs. Sami Zayn & Kevin Owens. The Usos have been waiting for years to have a WrestleMania moment as a tag team, and this is that moment. While much of the conversation surrounding the best tag teams in the world has often included FTR, Young Bucks, and others outside the WWE, The Usos have been waiting for that one rivalry and match that could put them over the top.
Zayn and Owens have a lauded history as a tag team and have been in some phenomenal tag matches outside of WWE. Considering the storyline and the level of violence that could take place, I think this match will absolutely steal the show.
MORE: Breaking down Sami Zayn and Kevin Owens vs. The Usos at WrestleMania 39
Liam: There's plenty to choose from on this WrestleMania card, but for me, it's the U.S. Title match between Austin Theory and John Cena. Growing up in the 2000s as a diehard member of the Cenation and knowing this could be one of the 16-time champ's final matches, I'm going to enjoy every second of it. I'm not expecting a five-star mat classic, but Theory has improved out of sight under the Triple H regime and should be able to help the part-timer to an entertaining blockbuster to kick off proceedings at Sofi Stadium.
Dan: The matches I am looking forward to, quality-wise, include Seth Rollins vs. Logan Paul, Bianca Belair vs. Asuka, and Gunther vs. Sheamus vs. Drew McIntyre. The latter match for the WWE Intercontinental Title has a chance to steal the show and become a Match of the Year contender. However, regarding the Story of the Year, I'm going with The Usos vs. Sami Zayn vs. Kevin Owens
Since Zayn involved himself with The Bloodline last year, the story surrounding all four men in this match has been cinematic-like. There have been tears, moments of joy resulting in pumping fists in the air, and moments leading to the entire WWE Universe at the edge of their seats. You can't turn away, making it the most compelling WWE story in years. Go back, and listen to the reaction when Zayn turned on Roman Reigns at the Royal Rumble or when Zayn and Owens finally hugged one another. Thanks to WrestleMania, the atmosphere for this bout should be electric, especially if Zayn and Owens win. Get your tissues ready; there will be crying throughout this match.
Carlan: I'm going with Roman Reigns. As long as Roman's dominance has been, it still doesn't feel stale. I think this story should continue until there's a true contender to knock Roman off.
No disrespect to Cody Rhodes, but I don't think that's him. At least right now. If Cody loses, that could create a year-long storyline of him having to prove he can win the big win and ultimately knock off Roman. They did this in New Japan Pro Wrestling with Kazuchika Okada and Hiroshi Tanahashi. It worked perfectly there. WWE can do the same with Roman and Cody.
Andreas: Initially, this felt like it was time for the crowning of Cody Rhodes. However, the more I think about it, the more I lean toward Roman Reigns. Should Cody win, his story is essentially over, and he acquired what he desired the most with less than a year of in-ring action in WWE. There's much more meat to the Roman Reigns narrative, including his record-breaking reign, dissension within the Bloodline, and the always-looming rematch with Sami Zayn. Give me Roman Reigns in this one.
MORE: Will you be able to legally bet on WWE?
Liam: This shouldn't be hard to pick, but somehow it is. Cody Rhodes has been the logical choice to dethrone Roman Reigns since his return to WWE at this same event 12 months ago. With the champ nearing 1,000 days with the gold and the WWE's love of milestone achievements, it's putting some doubt in my mind, and I'm going to go with another successful Reigns title defence - even if it's not the choice I am hoping for.
Dan: Roman's reign of terror has plagued WWE for a long time (in the best way possible). The thought was that whoever beats Reigns is considered the future. Fans and WWE expected The Rock to appear on WWE programming over the past two years. With "The Great One" not appearing (yet), the returning Rhodes seems like the logical winner, right?
There is already tension within The Bloodline, thanks to Rhodes' mind games and the involvement of Sami Zayn and Kevin Owens. It is a throwback to Triple H's feud with Batista at WrestleMania 21. Unlike the fall of Evolution, it is hard to think The Bloodline's firm grasp on WWE crumbles just like that. Rhodes winning would finish a story that started in 2020 for Reigns. Is his story complete? Depending on who is in charge of creative (Triple H or the returning Vince McMahon), anything is possible in pro wrestling. Like my colleagues, I am going with Reigns retaining.
Will WWE prove us wrong?