Antonio Conte: Tottenham boss hits out at 'selfish' players after throwing away two-goal lead at Southampton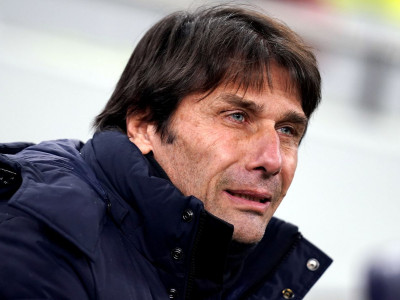 Furious Tottenham boss Antonio Conte has hit out at his "selfish players" for not wanting to play "under pressure" in an extraordinary post-match rant after they threw away a two-goal lead at bottom side Southampton.
Spurs led 3-1 at Saints with 16 minutes to go and looked on course to move third, but they conceded twice late on as James Ward-Prowse's stoppage-time penalty rescued a 3-3 draw for the home side.
Conte told Sky Sports after the 3-3 draw: "I'm not used to seeing this type of situation. I see a lot of selfish players and I don't see a team."
Please use Chrome browser for a more accessible video player
He added in his post-match press conference, which lasted 10 minutes: "We are 11 players that go into the pitch. I see selfish players, I see players that don't want to help each other and don't put their heart [in]."
Tottenham's collapse at St Mary's caps off a miserable March for the club who were dumped out of both the FA Cup and the Champions League earlier this month to leave them trophyless since 2008.
Asked why it is happening in his post-match press conference, the Italian responded: "Because they are used to it here, they are used to it. They don't play for something important, yeah.
"They don't want to play under pressure, they don't want to play under stress. It is easy in this way. Tottenham's story is this.
Spurs throw away two-goal lead at Saints
Live Premier League table
Tottenham fixtures
Get Sky Sports
"Twenty years there is the owner and they never won something but why? The fault is only for the club, or for every manager that stay here.
Please use Chrome browser for a more accessible video player
"You risk to disrupt the figure of the manager and to protect the other situation in every moment.
"Until now I try to hide the situation but now, no because I repeat, I don't want to see what I have seen today because this is unacceptable and also unacceptable for the fans.
"They follow us, pay for their ticket and to see the team another time, to have this type of performance is unacceptable. We have to think a lot about this."
Conte's Spurs contract expires this summer and there is a growing belief he will depart before the end of the season.
Sky Sports pundit Jamie Carragher believes the 53-year-old's outburst is a sign he wants to be sacked.
Carragher tweeted: "Conte wants to be sacked in this international break. Spurs should just put him out of his misery and do it tonight."
Quizzed on if the lack of clarity over his future had affected the squad, Conte pushed back at another "alibi" for his under-performing players during a passionate monologue.
"You are finding an alibi, another alibi," he said. "You try to find an excuse for the players."
He added: "The club has the responsibility for the transfer market. Every coach that stayed here has the responsibility and the players? The players? Where are the players?
"In my experience, I can tell you that if you want to be competitive, if you want to fight, you have to improve this aspect and this aspect, I can tell you, in this moment is really, really low.
"And I see only 11 players that play for themselves.
"There are 10 games to go and some people think we can fight. Fight for what with this spirit, this attitude, this commitment? What? For seventh, eighth, 10th place? I am not used to this position.
"I'm really upset and everyone has to take their responsibility. Not only the club, the manager and the staff, the players have to be involved in this situation because it is time to change this situation if Tottenham want to change.
"If they want to continue in this way, they can change the manager, a lot of managers, but the situation cannot change. Believe me."
The draw at Southampton dented Tottenham's top-four hopes with Conte's side now just two points above fifth-placed Newcastle, who have two games in hand on them.
Conte told Sky Sports: "If I have to compare this season and the improvement we are doing this season compared to last season, I think instead of improving the situation we are losing the work that we did last season.
"I don't speak about the tactical aspect, I am talking about the spirit, the sense of responsibility about the heart that we have to put onto the pitch.
"Today against Southampton you are winning 3-1 and you feel the perception; my perception is that anything can happen in every moment. And to be scared, scared of what [might] happen.
"The players, the players have to take the responsibility because what we are seeing in the last month I don't like. I don't like."
Another Saturday, another chance to win £250,000 with Super 6. Play for free, entries by 3pm.