Eagles-49ers tickets set to be most expensive in conference championship history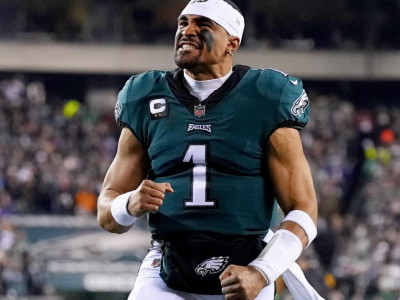 This late in the season, fans hoping to get into NFL stadiums for games already expect to pay a small fortune. But while Sunday's game at Lincoln Financial Field won't be the cost of the Super Bowl, it's starting to get close.
Tickets for the Eagles-49ers NFC championship game are shaping up to be the most expensive tickets for a conference championship game ever tracked by TicketIQ, according to company president Jesse Lawrence.
Per TicketIQ data, tickets to get into the game are costing an average of $2,468, which is 60 percent more than last year's NFC championship matchup between the Rams and 49ers in Los Angeles at $1,542.
MORE: Buy NFL playoff tickets via TicketSmarter
There is a reason these tickets have skyrocketed in cost: all the tickets from Ticketmaster are gone. ABC6 Philadelphia reported NFC championship tickets sold out in minutes on Tuesday, which has sent fans to secondary markets to get their way into the stadium.
According to TicketSmarter, the average cost of a ticket to get into the NFC championship game will cost $1,799, with tickets as cheap as $516 and as expensive as $19,672. The AFC championship game has an average cost of $739, per TicketSmarter. The cheapest tickets are $266 and the most expensive are $8,240.
Expensive tickets to get into the game shouldn't be surprising. According to TicketIQ, the third-most expensive conference championship game tickets on record came in the 2018 NFC championship game, when the average secondary market cost came in at $1,280.
49ers-Eagles picks: Straight up | Against the spread
Bengals and Chiefs fans are getting off a bit easier, but still are looking at an expensive ticket to get in the door of Arrowhead Stadium. TicketIQ reported the average cost on the secondary market is $1,218, the fourth-most expensive conference championship tickets and most expensive on the AFC side. Last year's Bengals-Chiefs game rounds out the top five at $1,034.
With tickets for the two NFL conference championship games already setting records, fans hoping to attend the Super Bowl better be prepared to take out a sizable loan to get to Glendale, Ariz.