Mel Kiper's first mock draft features surprises, including CJ Stroud over Bryce Young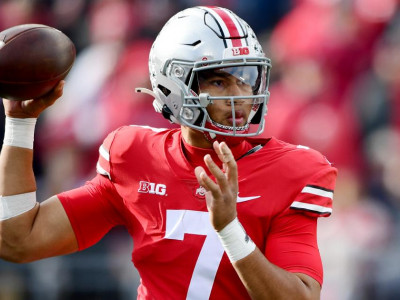 Mel Kiper has not seen his shadow, which means mock draft season is officially underway.
With the NFL season nearing its end, mock draft season is starting to heat up, and no indicator is finer than the ESPN draft analyst's first projection of the 2023 first round come April.
As is usually the case with pre-NFL combine mock drafts, there are more guesses and dart throws than a later-stage mock draft. Kiper's first effort reminds us of that, with four quarterbacks not only going in the first round, but in the top 10.
Here's how the first 10 picks shape out, according to Kiper:
MORE: The Sporting News' 2023 mock draft — What TSN says about the first round
There are a few noteworthy things surrounding Kiper's top 10, and they largely center around the quarterbacks:
— Kiper has four quarterbacks going in the top 10, which seems... a little excessive. Of the four, 2 1/2 make sense: Analysts peg both Bryce Young and C.J. Stroud to be the first two quarterbacks off the board, but it's unclear where Levis may be selected. Levis has red flags, including his decision making (four red-zone INTs led the country in 2022), but his traits will be highly sought after among NFL franchises.
— Adding to the intrigue is Florida passer Anthony Richardson going to the Panthers at No. 9. Richardson is considered to be incredibly talented, but will likely need a year of coaching to fix his mechanics and make him an NFL-level passer.
— Also of note is the Bears sticking in the top spot and taking Jalen Carter. It's unclear if GM Ryan Poles will eventually trade out of the No. 1 overall spot, but Carter could be a viable option with the top selection if they stick. If they don't stick, expect another QB-needy team to jump into the top spot to take a passer of choice.
A lot can change between now and April 27, so don't consider this first mock draft as gospel. For now, all we can do is ponder — you can expect Kiper to do the same over the next four three months.