What channel is Barcelona vs Real Sociedad in the Copa del Rey?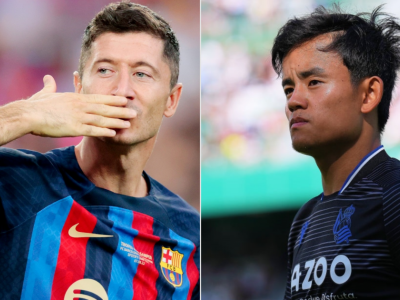 Barcelona are fun to watch again, and after winning the Spanish Supercopa they seem to be getting their swagger back. As we move through the 2022/23 schedule, the stakes will be higher with every match and that's the case with the Copa del Rey quarterfinal on Wednesday.
Real Sociedad will be the Blaugrana's opponent at the Camp Nou and La Real happen to be the hottest team in all of Spain with nine straight victories in all competitions, lifting the club to third in the La Liga table just six points behind leaders Barcelona.
It's a good thing for Xavi Hernandez's crew that they get to have star forwards Robert Lewandowski and Ferran Torres available for the match given how defensively solid Real Sociedad have shown themselves to be. Lewandowski and Torres will have one more match to serve in their respective La Liga suspensions, but that does not apply to the Copa del Rey.
There must be a winner on the day, and extra time and penalty kicks, if necessary, would be used to determine the team advancing to the Copa del Rey semifinals if the sides are deadlocked after 90 minutes.
The Sporting News brings you all the details you need to watch the match on TV or stream it in major regions around the world.
MORE: Updated La Liga table | Updated La Liga top scorers race
It is no slam dunk that the Barcelona vs Real Sociedad match is available depending on where in the world you're based.
Below we provide some reliable resources and guides to help you figure out whether you're able to tune in to a legal stream or broadcast.
According to Barcelona's official web site and LiveSoccerTV, only one of the following regions will be able to watch a live stream of the Barcelona vs. Real Sociedad match: American fans on ESPN+.
In countries in which Bet365 operates, the stream is available for registered users of the sports betting site who have a funded account and have made a bet in a specific window of time.
MORE: All of Barcelona's fixtures and results in 2022/23
The Copa del Rey is the oldest domestic cup competition in Spain, founded in 1903. But the coverage of the competition is not as widespread globally as league play from Spain with La Liga running a full season from August through May.
Fans around the world need to do their homework to find out how to watch the Copa del Rey matches remaining in the competition. LiveSoccerTV offers a guide, as does Barcelona's official website.
North Africa will be served by beIN Sports, while sub-Saharan Africa will see the matches carried by Star Times.
beIN Sports also serves many Arab countries and Iran, with Setanta carrying the matches for Afghanistan (in addition to Voot and MTV), Uzbekistan (UzReport as well), and Kazakhstan.
Many countries don't have a listed carrier: Japan, South Korea, Southeast Asia, Thailand, Vietnam, and Indonesia.
Countries like Spain (Movistar+), France (L'Equipe), Sweden (Sport Bladet Play), Denmark (TV2 Sport), Turkey (Tivibor Spor 2), Hungary (Sport 2 Hungary), Czech Republic and Slovakia (Sport 1), and the Balkan countries (Arena Sport and Moja TV) can tune in.
However, other nations like the UK, Ireland, Portugal, Belgium, Germany, Austria, Poland, and Italy will likely have to pursue the Bet365.com route if the betting site is legal in those territories.
Fans in the USA can stream the matches in the same place they get their La Liga action: ESPN+. But there are no listed carriers in Canada.
Sky will air the matches in Mexico and parts of Central America.
Unfortunately, there is no broadcaster or streamer carrying the matches in Australia and New Zealand and fans will have to explore the Bet365 option if legally available in those countries.
Several Spanish-speaking countries will be able to watch it on DirecTV (Paraguay will have it on Tigo Sports), while the matches will be carried by Star+ in Brazil.