Rory McIlroy vs. Patrick Reed, golf beef over thrown tees and Christmas subpoenas, explained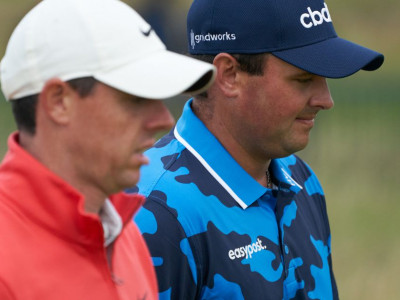 For the first time since Brooks Koepka and Bryson DeChambeau ...
WE GOT GOLF BEEF, FOLKS!
Let's set the stage, which of course starts with the backdrop of the ongoing rift between the golfers on the PGA Tour and the golfers with the new LIV Golf, a Saudi Arabian backed tour that's been poaching PGA golfers such as Brooks Koepka, Dustin Johnson, and our player one in this beef, Patrick Reed.
On the other side, are the PGA Tour golfers who refuse to go over to LIV Golf. This is where guys like Tiger Woods, Max Homa, and current world number one plus player two in this beef, Rory McIlroy.
In August of 2022, 11 LIV golfers filed a federal lawsuit against the PGA Tour, accusing them of anti-competitive practices by banning LIV golfers from participating in the PGA Tour. LIV Golf themselves joined on soon after. The Tour countersued LIV Golf, accusing them of interfering with the contracts of their players.
Reed was not among the players suing the PGA Tour, however. He was suing The Golf Channel, among other media groups, for defamation, centering around his move to LIV Golf, and the narrative surrounding the ties to Saudi Arabia. How does McIlroy play into this? Well, Reed served McIlroy a subpoena for him to appear in court—ON CHRISTMAS EVE. Imagine spending the night with your family, hanging ornaments and drinking hot chocolate, when Patrick Reed Ebenezer Scrooge shows up at your door with a subpoena to testify for him in court, for a company you don't even work at.
Fast forward to Monday. Reed and McIlroy are in Dubai for the Hero Dubai Desert Classic, practicing. Reed walks up to McIlroy, and shakes another man's hand before speaking to McIlroy.
Or at least, attempting to speak to McIlroy.
McIlroy gives him the cold shoulder, probably because of the whole subpoena at Christmas thing. Then, Reed tosses a golf tee in McIlroy's direction, which is a declaration of war. That's how golf works. If you throw a tee at me, then you want nothing more than to see my downfall by whacking me in the kneecaps with a nine iron.
Footage from @Tengolf showing the reported 'incident' between McIlroy and Reed on the driving range in Dubai... pic.twitter.com/RFK40qp6L5— Golf Monthly (@GolfMonthly)
Look at his little strut after he tosses the tee. Just absolute sniveling heel move. But not like a main event heel, like a jobber heel move.
McIlroy was asked about the incident today, and provided the greatest response of all time:
HOWLING pic.twitter.com/78dDcVM2Be— No Laying Up (@NoLayingUp)
The transcription is just as good:
I'm howling! pic.twitter.com/UvCJGV0VbU— Kyle Porter (@KylePorterCBS)
That reporter dug himself a hole early and then buried himself in it. The handshake snub heard around the world was the catalyst for the golf tee being used as a lawn dart in McIlroy's general radius, but McIlroy provided some insight into why he didn't want to shake the hand of a man who, again, SERVED HIM A SUBPOENA ON CHRISTMAS EVE.
"I didn't see it," McIlroy said via Golf Digest. "Patrick came up to say hello and I didn't really want him to. That was it. I didn't see a tee. I didn't feel a tee. Obviously someone else saw that. I can't believe it's actually turned into a story. It's nothing."
To me, this has to lead to one thing: McIlroy and Reed have to fight. Not a normal fight, no, but a fight with stages. Think about it: McIlroy and Reed are paired together. In between holes, there are various weapons. Start off mild, with, say, a golf tee. These weapons escalate to lances and horses and they must joust to find a true winner. That's must see television, and a surefire way to squash some beef.