Jeff Kent calls Baseball Hall of Fame voting 'head-scratching embarrassment'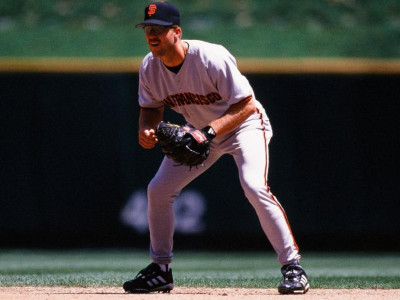 The 2023 Baseball Hall of Fame voting results were revealed on Tuesday and only one candidate was selected to represent the Class of 2023 alongside Fred McGriff. That was Scott Rolen, a 17-year veteran who earned eight Gold Gloves and hit 316 home runs playing for the Phillies, Cardinals, Blue Jays and Reds.
Rolen had plenty of reasons to celebrate his monumental achievement, but others who did not qualify were understandably upset.
That included another 17-year veteran, Jeff Kent.
MORE: Voting results from 2023 Baseball Hall of Fame announcement
Kent — who played for the Blue Jays, Mets, Indians, Giants, Astros and Dodgers during his career — was in his 10th and final appearance on the Baseball Writers' Association of America ballot. The second baseman received 47 percent of the vote, which marked the most he had received during any of his ballot appearances but fell well short of the 75 percent threshold for nomination.
The 54-year-old Kent voiced his displeasure with the voting process in wake of his Hall of Fame denial.
"The voting over the years has been too much of a head-scratching embarrassment," Kent said via a text message to the San Francisco Chronicle. "Baseball is losing a couple generations of great players that were the best in their era because a couple non-voting stat folks keep comparing those players to players already voted in from generations past and are influencing the votes. It's unfair to the best players in their own era and those already voted in, in my opinion."
MORE: Adrian Beltre headlines 2024 Baseball Hall of Fame ballot additions
Indeed, it does appear that one of the main arguments against Kent was stat-based. His career WAR of 55.4 notably ranks 19th among second basemen all time but falls well short of the 69.6 average among the 20 second basemen enshrined in Cooperstown.
Even still, Kent ranks as one of the best second basemen of all time. He logged 2,461 total hits and 377 home runs with a .290/.356/.500 career slash line. His 123 OPS+ is well above average, too, and he won the 2000 National League MVP award while playing for the Giants.
So, it's easy to understand why he would be miffed not to make it. For now, though, he is chalking that up to the "stat folks" and to the era in which he played.
"Steroids clouded the whole system, too, and with the reduction of eligibility years, to clear the ballot deck, I got caught up in it all, I guess," he told the Chronicle.
MORE: What Hall of Fame options exist for Barry Bonds, Roger Clemens
Kent will still have a chance to eventually make it into the Baseball Hall of Fame via the Contemporary Baseball Era committee, which is how McGriff earned his spot in Cooperstown this year. However, that 16-person group met in the winter of 2022 and won't meet again until the winter of 2025.
So, Kent's decade-long wait will extend at least a few more years before he gets a chance to prove all the "stat folks" wrong.