Voting results from Baseball Hall of Fame Class of 2023 announcement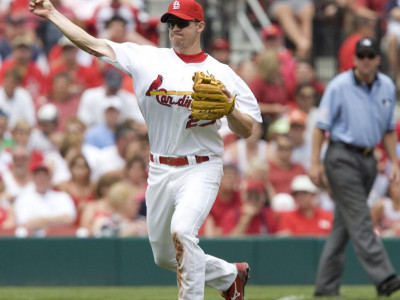 Just one player will be joining Fred McGriff in this year's Baseball Hall of Fame class: Third baseman Scott Rolen, who played 17 seasons for the Phillies, Cardinals, Blue Jays, and Reds.
Rolen earned his spot with 76.3 percent of the vote, clearing the 75 percent threshold by just five votes. Todd Helton, a career Rocky, was the first off the ballot, falling short by just 11 votes.
Rolen posted a 70.1 career WAR with a career slashline of .281/.364/.490. He also had 316 career home runs, eight Gold Glove wins, a 2006 World Series win, and a Rookie of the Year award. It was Rolen's sixth time on the ballot, and he made it on after debuting at just over 10 percent.
MORE: Adrián Beltré headlines Hall of Fame class of 2024 ballot
Several players fell off the ballot with under five percent of the required vote, including R.A. Dickey, John Lackey, Mike Napoli, and Jacoby Ellsbury. The Sporting News tracked the announcement of Rolen's enshrinement.
6:18 p.m. -- Rolen also won a World Series in 2006. He was a total of five votes over the threshold. Todd Helton was first off, falling 11 votes short.
6:17 p.m. -- This was Rolen's sixth year on a ballot, and he got in with 76.3 percent of the vote. Rolen was tracking around 80 percent before the private ballots came through.
6:16 p.m. -- Rolen gets in with eight gold gloves, a .281 career batting average, .855 OPS, and five All-Star appearances.
6:14 p.m. -- Rawitch announces one player will be honored: Scott Rolen, after a 17-year career.
6:13 p.m. -- The broadcast now turns over to Brian Kenny and Josh Rawitch for the announcement.
6:05 p.m. -- This show begins with Fred McGriff talking about some of the candidates, including Billy Wagner, Andruw Jones, Gary Sheffield, and Carlos Beltran. Beltran's role in scandals came up as well as a thing that may be keeping him out.
6 p.m. -- As we prepare for the announcement, Scott Rolen and Todd Helton were polling above 75 percent among public ballots. However, as always, it's the private ones that will decide their fate.
5:50 p.m. -- Welcome to the Baseball Hall of Fame 2023 announcement! In about 10 minutes, we'll learn who if anyone, will join Fred McGriff in the Class of 2023. As a reminder, players needs 75 percent of votes from BBWAA writers, and those under five percent or not making it on their 10th try will be left off of future ballots.
The Baseball Hall of Fame announcement for the Class of 2023 will begin at 6 p.m. ET on Tuesday, Jan. 24 when we will see who, if anyone, will be inducted in Cooperstown via the writers' ballot.
MORE: What Hall of Fame options exist for Barry Bonds, Roger Clemens
The 2023 announcement ceremony for the Baseball Hall of Fame will be broadcast on MLB Network. There will be a simulcast on Facebook anchored by Brian Kenny, Greg Amsinger, and Lauren Shehadi, and the MLB Network broadcast can be streamed via fuboTV, which offers a free trial.
McGriff was voted in by the Contemporary Baseball Era Committee in December. He received a unanimous 16 votes, the only person among the eight on the ballot to receive the necessary votes.
The balloting was conducted during the Winter Meetings in San Diego.
Other players on the ballot included Barry Bonds, Roger Clemens, and Curt Schilling, among others. Candidates require 75 percent of the votes to be voted in.
MORE: Why Fred McGriff could have the Cooperstown stage all to himself in 2023
There are 28 candidates for this year's Hall of Fame class. Here's a look at each of them, along with how many times they've been on the ballot and their vote percentage this year.
* - final year on BBWAA ballot
Tuesday merely marks the announcement of those who will be enshrined.
McGriff and any other players are voted in during this cycle will officially be inducted into the Baseball Hall of Fame on July 23, capping a weekend of activities in Cooperstown.