Neymar injury update: Brazil star leaves field in tears at World Cup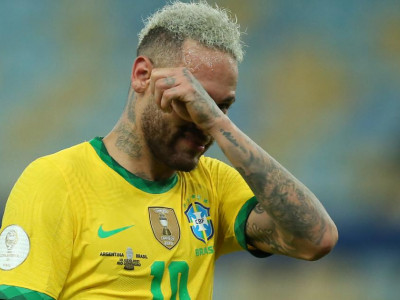 Brazil have started their 2022 FIFA World Cup campaign in fine form, with a 2-0 win over Serbia on Thursday — but there is a looming big worry for the Selecao, after an injury to star attacker Neymar.
Richarlison scored a second-half double in the crucial win, that sees the Selecao claim an early place at the top of Group G.
But more worrying was that superstar Neymar left the field in tears, after suffering a heavy knock late in the game to his ankle.
The PSG attacker is no stranger to suffering injuries at the worst time, and all eyes will now be on his fitness moving forward.
The Sporting News will keep you updated with the latest as the Brazil striker's injury is assessed.
MORE: Brazil World Cup squad, who could replace Neymar if he is injured?
After playing a part in Brazil's opening goal against Serbia on November 24, Neymar was forced from the field in the 80th minute.
The 30-year-old had been down on the ground after being subjected to a heavy tackle that seemed to hurt his right ankle, which was immediately treated by Brazil's medical staff.
Neymar targeted throughout the Serbia match, fouled a tournament-high nine times, and he eventually felt the full weight of one of those challenges.
pic.twitter.com/OK6NTP6qRt— Gols Copa 2022 (@golscopa2022)
📸Así quedó la pierna de Neymar tras la entrada de Milenkovic. pic.twitter.com/Do0dD1v1F2— Express Futbol (@ExpressFutbolCL)
Neymar was visibly emotional after leaving the field, and he was seen in tears on the bench — with fears the injury may now limit his involvement in the 2022 World Cup.
Brazil will look to assess the injury further, with likely scans over the next 24 hours to confirm the extent of Neymar's latest blow.
Based on his immediate reactions and the subsequent swelling, the news may not be good for him or the team, as they look to win their first World Cup in 20 years — although coach Tite told the press afterwards that he is hopeful it will not be serious.
He insisted: "Neymar is going to play [in the rest of the World Cup]. I can be absolutely sure that Neymar is going to play!"
Neymar had to exit the pitch late in their clash with Serbia with an apparent ankle injury. 😬 pic.twitter.com/XQNjCmWPD3— CBS Sports Golazo ⚽️ (@CBSSportsGolazo)
Neymar kicked out of another big tournament?#BRA pic.twitter.com/EqtutcPkl9— Robin Bairner (@RBairner)
While there's no firm details on Neymar's injury just yet, based on the early swelling and contact, it seems highly unlikely he will play in Brazil's next match against Switzerland on November 28.
Should Tite's side win that game, they'd be all-but guaranteed a place in the knockout stage, meaning Neymar would not need to be risked against Ghana even if his recovery is on track.
Based on the above scenario, that gives Neymar around 11 days to rest and try to be fit before Brazil likely take to the field in the Round of 16.
MORE: Best goal of World Cup so far? Richarlison's scissor-kick for Brazil, hands down
An injury to Neymar would leave a rather big hole to fill on the pitch for Brazil.
He was pivotal in their opening goal of the 2022 World Cup against Serbia, with his one-on-one ability nearly impossible to match.
Neymar was replaced by Antony against Serbia and the Manchester United youngster certainly has the creative skills to fill some of Neymar's void.
Newcastle United star Bruno Guimaraes looms as another possible option, and the 25-year-old wasn't used at all in Brazil's opening match, so he will be raring to go.
Guimaraes is slightly more defensive-minded than Neymar, however, so Tite may need to shift his formation somewhat to account for that.
Unfortunately, Neymar is no stranger to injuries at the worst possible time when it comes to playing for Brazil.
The 30-year-old missed his team's infamous 7-1 loss to Germany at the 2014 World Cup after hurting his back.
Four years later, Neymar struggled somewhat in Russia after fracturing his fifth metatarsal just three months before the start of the tournament.
It now appears to be a case of third time unlucky, as Brazil sweat on their superstar's fitness in Qatar.
Neymar had arrived at the 2022 World Cup in form and fit, with his last injury absence at club level dating back to early February this year.