Field Pass: Benching Brady and more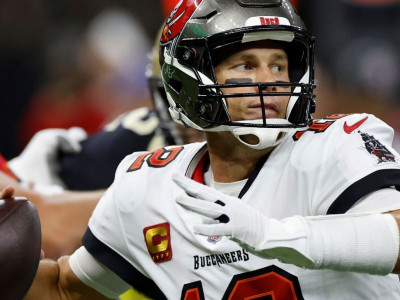 Each week during the 2022 NFL season, Field Yates will help fantasy football managers by providing the precise intel needed on the most important, fantasy-relevant storylines, with some help from friends at ESPN, who offer the best and freshest insight into what matters most. You'll hear from our incredible team of NFL Nation reporters, our national reporters -- including fantasy football-obsessed Adam Schefter -- and our fantasy analysts here at ESPN. Field's rolodex is vast; he'll dial up whomever he needs. This is the Field Pass.
Cooper Kupp is inevitable.
That's the only thing that I am certain of through two weeks of the 2022 NFL season.
All right, so it's not the only thing, but Week 2 was a reminder of the perils of reading too much into Week 1. Things change in a hurry, and the vibes -- good or bad -- can shift dramatically in the span of a few days.
Players who flashed in Week 1 came back down to earth, while those who stumbled out of the gates in Week 1 reminded us that they are still, in fact, good at football (Mike Williams always has been, always will be).
This is the roller coaster that we call the first month -- maybe a little more -- of the NFL season. We get so excited to finally have information to process after Week 1 that we make the entirely understandable mistake of assuming that Week 1 is the beginning of trends, rather than potentially a week full of exceptions.
The sample size has now doubled after two full NFL regular-season weeks, which certainly helps us feel a bit more confident in some things. But I could go through a million reminders of early-season strong performances that were worth their weight in dust; I'm old enough to remember when Sam Darnold was tied for the lead in rushing touchdowns nearly a quarter of the way through last season.
So those of us here at Field Pass HQ are here to remind you that we, too, remain in information-gathering mode this season, a process that will continue for the remaining 16 weeks of the regular season but certainly feel much more refined and reliable as our reference points grow.
Our goal is to contextualize as much of the information that we already have and help you make the best lineup decisions you can.
Let's get to it!
Tom Brady is the greatest player in NFL history. Aaron Rodgers is -- in the estimation of some respected football minds -- the most talented quarterback the game has ever seen.
Their teams square off on Sunday, and in a 10-team fantasy league, I wouldn't have either of them in my lineup.
Play the No. 1 Fantasy GameIt's not too late to play with friends and family. Draft a league now and start fresh with a 0-0 record and a shortened schedule. New league weeks start every Thursday with TNF kickoff. Get started >>
It's not too late to play with friends and family. Draft a league now and start fresh with a 0-0 record and a shortened schedule. New league weeks start every Thursday with TNF kickoff. Get started >>
Through two games, Brady has a paltry 402 passing yards, while completing just 59.0% of his passes. It's extremely early, but that would be the lowest completion percentage in his career. Multiply that by the fact that Mike Evans (suspension) is out for Week 3, while we don't know the status of Chris Godwin (hamstring) or Julio Jones (knee) yet (or left tackle Donovan Smith, for that matter), and Brady is outside my top 10 quarterbacks for the week.
To reiterate, it's extremely early, but Brady has attempted 19 passes intended for the star trio of Evans, Godwin and Jones; on those 19 passes, he's completed 74% of them for 12.4 yards per attempt and has an off-target rate of 21.4%.
When throwing to all other wide receivers this season, Brady has completed 52% of his 24 attempts, good for just 4.8 yards per attempt and an off-target rate of 32%. Yes, even for the GOAT, wide receivers matter. And while the Packers were thumped by the Vikings in Week 1, their defense is good enough to dissuade me from starting Brady. (Note: if we get updates suggesting Godwin and Jones will play this Sunday, Brady's outlook changes).
I'm just as wary of Rodgers. Through two games, he has just 429 passing yards and two passing touchdowns (both of which came in Week 2). The Packers have had to evolve as an offense after trading away Davante Adams, and while they have a pair of rookie wideouts that profiles as good players long term, they're still developing. The best two pass-catchers right now might be their two running backs.
But more than anything, they face off against a straight-up nasty defense. The Bucs have scored as many defensive touchdowns as they have allowed through two games (one apiece). The pass rush is ferocious, the secondary is opportunistic and the linebackers are really good. It's a nightmare matchup for anyone.
For those of you who roster Brady or Rodgers, where to turn?
Carson Wentz is currently second in the NFL in passing yards and tied for the lead in passing touchdowns with seven. He is the latest reminder that style points don't matter in fantasy, as his total 51.8 QBR through two games jibes with the reality that it hasn't all been perfect on the field. But his volume (more than 40 passing attempts in each game) has been exceptional, and he's got three legitimately awesome receivers. The Washington defense is enduring secondary issues that should lead to points allowed, only keeping the door open for Wentz to keep on throwing; he's a top-10 QB for me this week.
While Derek Carr isn't off to a mammoth fantasy start, I do have him ranked ahead of Rodgers (but behind Brady) for this week. Kirk Cousins and Jared Goff face off in a game that has shootout potential, with Cousins my preferred option of those two.
Field Yates, Stephania Bell and Daniel Dopp unanimously agree that Tom Brady should be benched against the Packers.
Onto the most interesting possible option ...
Before we dive into the fantasy value of Tua Tagovailoa after his historic Week 2, I want to take a moment to state simply that it was awesome to see him perform the way he did last Sunday. It was a near-perfect fourth quarter and for an oft-criticized player, his performance did a tremendous job of silencing the critics.
Do I view Tua as a must-start player at quarterback after the massive Week 2? Not yet, as that came on the heels of a Week 1 performance in which he had just one passing touchdown, and he has a total of 0.1 fantasy points as a runner in two games.
You're going to need Tua to have a huge day as a passer to justify that start, and he draws the Bills in Week 3, an unfavorable matchup to say the least. He's QB13 on my board for the week, because what Week 2 underscored is that not only does Tagovailoa have elite receivers around him, but he can get them the ball when and where they need it. He already has eight 20-yard completions to Hill and Waddle this season, while each had a catch of at least 59 yards in Week 2, and Hill had two touchdowns of at least 45 yards. Entering this season, Tagovailoa had just one career touchdown pass of at least 30 yards. He already has three in two games.
While I'm still not there yet on Tagovailoa as a lineup lock, his play in Week 2 reinforced that any concerns about sustaining two elite receivers should exist no longer. Hill is my WR2 on the board this week, with Waddle at WR9. Both can finish as top 15 players at the position this week. Stock up all around in Miami.
Rankings:• Week 3 ESPN Fantasy staff rankings•Karabell's Week 3 superflex ranks• Karabell: Fantasy trade value index
Advice:•The Playbook: Start/sit analysis• Nation FAQ: 10 key answers for Week 3•Field Pass: Bench Brady, Pitts?
• Moody's waiver wire pickups•Bowen's Week 3 streaming pickups
Playing the matchups:•Best, worst matchups by position•Film Room: Players to upgrade, downgrade•Key Week 3 WR/CB matchups•Week 3 mismatches to exploit•DFS advice for Week 3
If you drafted a running back early, I want you to know that you are not alone. No, I don't mean you are not alone in the sense that many of us drafted running backs early -- that's how it goes every year in fantasy -- but rather in the sense of sadness you may well be feeling right now.
Through extensive research and consultation with virtually every resource available at ESPN, I have comprised a list of every single running back that has scored at least 17 fantasy points in both weeks of the regular season so far:
(Editor's note: there have been none)
So, while the cream-of-the-crop wideouts have been sensational, the running backs? Not so much. Here's a look at the top 10 based off of ADP and how I'm feeling right now:
Jonathan Taylor: On a terrible day for himself, he rushed for 54 yards in Week 2. He's still RB1.
Christian McCaffrey: He's playing more than 80% of the snaps. We'd like to see his catches (just eight through the first two games) explode again.
Austin Ekeler: While he's playing less than 60% of the snaps, his nine catches in Week 2 was a reminder of his upside.
Derrick Henry: Has yet to record a catch this season and has just 34 carries in two games. I'm a bit concerned, as I'm not sure the Titans will have as many game script opportunities to feed Henry 25-plus times a game.
Dalvin Cook: While he was swallowed up as a runner in Week 2, he has seven catches so far, but just hasn't found the end zone. No major red flags yet.
Najee Harris: Once again, the Steelers' running game looks mediocre, so Harris is going to need excellent receiving value to hold up as a top-10(ish) option. He had five catches in Week 2.
Joe Mixon: He has at least 22 opportunities in both games, with 10 catches already this season. He hasn't found the end zone, but his workload is elite.
Alvin Kamara: A rib injury in Week 1 cost him Week 2. He had just seven receiving yards in Week 1, so we hope for more passing game reps.
D'Andre Swift: Swift is a star with the ball in his hands, as he's currently averaging 10 yards per rush on his 20 attempts this season. An ankle injury reduced his workloa