Ranking 0-2 teams from done to playoff long shot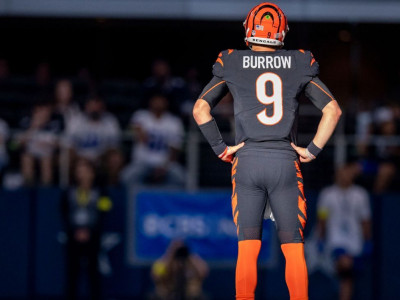 Every NFL season starts with hope inside a locker room and within a fan base. A loss in Week 1 is damaging. A second consecutive loss in Week 2 is an immediate crisis. Teams can make it to the postseason after starting 0-2, but a two-game losing streak to begin the season puts their backs against the wall before the campaign has even really begun.
Since 2002, 98 teams have started 0-3. One of those teams (the 2018 Texans) made it to the playoffs, while the 2013 Steelers would have joined them if the league had 14 playoff teams at the time. Going 0-3 is basically hopeless, and 0-2 doesn't feel too great, either.
Since 2022, just 9.6% of teams that started 0-2 have made it to the postseason, and while that seems survivable, no 0-2 team has made it to the postseason since 2018. The 17-game season gives teams an extra week to catch up to the rest of the league, but only one of the seven teams that started 0-2 a year ago posted a winning record, and that team -- the 9-8 Colts -- missed out on a playoff berth because it lost to the Jaguars in Week 18.
With five teams starting 0-2 in 2022, history tells us it would be a surprise if even one of them made it to the postseason. I'll hold out hope that at least one of them turns things around. Let's run through those five 0-2 teams (in order of least to most likely to make the playoffs) and detail what has gone wrong for them and what they can do to fix things before their seasons collapse.
Jump to an 0-2 team:Bengals | FalconsPanthers | Raiders | Titans
The losses: vs. New Orleans, at L.A. Rams
Facing a schedule that began with two likely NFC playoff contenders, the Falcons have given a solid accounting of themselves. They outplayed the Saints for most of Week 1 before collapsing in the fourth quarter, with a brutally conservative decision from coach Arthur Smith breaking their back.
Last week's loss to the Rams flipped the script, as the Falcons turned things on in the second half. Down 28-3, they scored two touchdowns amid a Rams field goal, then blocked a punt and returned it for a third. Smith correctly went for two while down eight points and converted, making the score 31-25 with five minutes to go. Atlanta then had a short field to take the lead after forcing a Cooper Kupp fumble, only for quarterback Marcus Mariota to be intercepted in the end zone to seal things.
With slightly better execution, the Falcons could be 2-0. Mariota fumbled away a red zone opportunity with a big lead in the third quarter against the Saints. They had one red zone whiff in each game so far, while opposing offenses have scored seven touchdowns and a field goal in eight trips. Kicker Younghoe Koo, who went 27-of-29 on field goal tries last season, already has two misses (one was a blocked 63-yarder to end the Saints game).
The Falcons have to be pleased with Mariota, even if he is slightly below league average in most passing categories through two games. Smith unsurprisingly has built in plenty of movement for Mariota, whose nine pass attempts on play-action boots are the fourth most in the league. The 28-year-old averages more than 9.0 yards per pass attempt when the Falcons use play-action, a mark that falls to 5.4 yards per attempt when they have him drop back without a play fake.
Mariota has run plenty through two weeks, carrying the ball 18 times for 88 yards and a touchdown. If anything, I'm a little surprised the Falcons didn't install more quarterback run concepts for the former Titans starter; just about all his rush attempts have come on scrambles or zone-read looks. Mariota needs to do a better job of protecting the ball in the red zone, but he has been sacked on only 4.8% of his dropbacks, down from an untenable 12% during his last two seasons in Tennessee (2018 and 2019).
What has been notable, though, is the Falcons have not gotten the desired results from their most promising young players. Cornerback A.J. Terrell, who emerged as a bona-fide superstar in 2021, already has allowed as many touchdowns (three) as he did throughout all of last season. Saints receiver Michael Thomas outmuscled Terrell on a pair of fades for touchdowns in Week 1, and the Rams liked it enough on tape to go to the same matchup for an Allen Robinson II touchdown last Sunday. No player has allowed more expected points added (EPA) as the nearest defender in coverage so far. Terrell is still a great player, but Atlanta likely counted on being able to put Terrell on an island this season.
Tight end Kyle Pitts also seemed set for a mammoth season, but he has fewer receiving yards than the likes of Johnny Mundt and Zach Gentry through two games. Pitts has run only 51 routes, which ranks 17th among tight ends, and his four catches have produced a total of 8 yards after catch. He ranks 27th out of 34 qualifying tight ends in yards per route run (0.8) after finishing fifth in that category a year ago (2.1).
I watched all of Pitts' red zone routes and expected to see a player who was getting double- or triple-teamed by opposing defenses, but that hasn't been the case. He generally has been in one-on-one matchups, but the Falcons haven't prioritized getting him targets in that area (or any area) through two weeks. The most notable thing he has done through two weeks is have a snap bounce off his leg while in motion.
Smith rejected criticism of Pitts not getting opportunities by dismissing the idea as fantasy football, but it's not something we see elsewhere around the league. The Rams prioritize getting Cooper Kupp touches because he's their best receiver. The Bills find ways to get Stefon Diggs the football. Chiefs coach Andy Reid mixes in all kinds of looks for Travis Kelce. It's only two weeks, so I'm not too concerned, but it's hardly unreasonable to suggest the Falcons aren't creating opportunities for Pitts to be a difference-maker in key situations.
Field Yates asks the Falcons to get Kyle Pitts more involved as the tight end has 38 yards total in the first two games.
Realistically, given how many replacement-level players the Falcons are using for meaningful snaps, they aren't going to be able to do much unless Pitts and Terrell are bona-fide All-Pros. If they harbor any sort of competitive aspirations, they can take heart in the fact that there are only three 2-0 teams in the NFC through two weeks, while the rest of the NFC South is a combined 3-3. With the Seahawks and Browns coming up, Atlanta has its best shot at taking home an early win or two before the slate gets tougher.
The losses: vs. Cleveland, at NY Giants
When Matt Rhule was coaching in college, the third year was the season in which his teams flourished. Temple went 2-10 in his first season, 6-6 in Year 2 and 10-4 in Year 3. Baylor started 1-11, then improved to 7-6 and 11-3 during Rhule's third and final season in Waco, Texas. Panthers fans would have been thrilled with double-digit wins in Rhule's third season, even given that he gets three extra games to work with at the pro level. At the very least, Carolina needed to show significant progress this season.
Through two games, it's difficult to see signs of that progress. The Panthers have lost to the Browns (a team playing out the string while waiting for Deshaun Watson's 11-game suspension to expire) and the Giants (a team using the season to eat its salary-cap vegetables and evaluate Daniel Jones). The losses have come by two and three points, so the Panthers have been competitive, but these are the sorts of teams they need to be beating.
I will admit I'm surprised by Carolina's offensive philosophy. After hiring Ben McAdoo as coordinator, the Panthers are flinging the ball around on early downs like they're the Bills. They actually have the league's highest early-down pass rate in neutral situations this season, ahead of those Bills, Chiefs and various other teams with superstar quarterbacks. The other teams in the top five -- the Chiefs, Ravens, Chargers and Bills -- average 0.33 EPA per dropback when they throw in those situations. The Panthers are generating minus-0.1 EPA per dropback, which is well below league average.
• Game picks from our NFL experts »• PickCenter » | ESPN Chalk »More NFL coverage »
What this really comes down to is first down. The Panthers have thrown the ball at the league's fifth-highest rate on first down. Quarterback Baker Mayfield hit receiver Robbie Anderson on a blown coverage for a 75-yard touchdown on a first-down pass, which is wonderful. Mayfield's success rate on first-down dropbacks, though, is only 39.3%; quarterbacks leaguewide are successful on 45.1% of their first-down dropbacks. Mayfield ranks 20th in success rate on first down, which is fine but doesn't seem to support such a heavy usage rate.
What makes this even weirder is the Panthers have had a healthy start from running back Christian McCaffrey, who has missed most of the past two seasons because of various injuries. McCaffrey's passing-game routes suggest they either don't want to use him in his old role or don't think it's important. He has been targeted 10 times through two weeks, but one was on a throwaway by Mayfield and the other was starting what ESPN's Scott Van Pelt would call a "pitchy pitchy woo woo" attempt with eight seconds left in regulation against the Browns.
The other eight targets are mostly screens and immediate passes into the flat. The choice routes McCaffrey used to terrify opposing linebackers in space haven't been part of the offense; he has just one catch on an option route all season. That route, coming 4.2 yards downfield, is his longest target of the season. Part of what made him such a valuable player was his ability to stress opposing teams as a receiver outside of the backfield; it's bizarre to see Carolina avoid getting their star in space.
Mayfield is not off to a great start. His completion percentage is 9.5% below what NFL Next Gen Stats would expect from an average quarterback through two weeks, which is the fifth-worst mark in the league among