Betting odds, picks, tips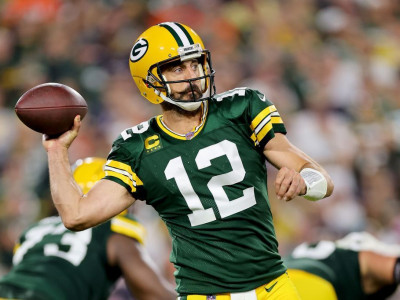 Week 3 of the 2022 NFL season kicked off Thursday night as Jacoby Brissett and the Cleveland Browns defeated the Pittsburgh Steelers 29-17 in a battle of AFC North foes. Things only get better on Sunday with what figures to be a high-powered showdown between the Buffalo Bills and Miami Dolphins for AFC East supremacy. In the mid-afternoon window, two future hall of fame QBs will face off once again when Aaron Rodgers and the Green Bay Packers face Tom Brady and the Tampa Bay Buccaneers.
But what does this all mean from a betting perspective? And what are the best plays to help you make smart wagering decisions?
Betting analysts Doug Kezirian, Tyler Fulghum, Joe Fortenbaugh, Anita Marks and Erin Dolan, fantasy and sports betting analysts Eric Moody and Andre Snellings, ESPN Stats & Information's Seth Walder and Football Outsiders' Aaron Schatz offer their insight into the games with tips and picks.
Note: Lines from Caesars Sportsbook unless otherwise indicated.
Kezirian: It's undoubtedly the unders hitting at a 68% clip. Twenty-one of 31 games have gone under. And while we like to simplify things, I really do think it's team-specific and not just one large rationale. Some teams have been hit hard with injuries to key positions, such as offensive line and quarterback. Others have just limited offensive execution.
Moody: For me, it's the battle between the Buffalo Bills and Miami Dolphins. The Dolphins will be Bills' first divisional opponent after two games. That's huge and will be magnified by the fact that it's for first place in the AFC. Tyreek Hill has historically performed well against the Bills. I'm looking forward to seeing how Hill and Jaylen Waddle perform against Buffalo's defense. Something to consider if you are looking at the prop market along with Bills quarterback Josh Allen: Over the course of his career, he has averaged 247.5 passing yards and 54 rushing yards per game against the Dolphins. An enormous amount of betting activity will be generated by this highly publicized game.
The season is here! Sign up for ESPN Fantasy Football today. Play for free
Schatz: The wide receiver injuries in the Tampa Bay Buccaneers-Green Bay Packers contest. This would normally be the highlight game of the week, but who is playing in it? We know Mike Evans is suspended. Chris Godwin will probably not be back from his hamstring injury. Will Julio Jones be ready to play? Meanwhile, most of Green Bay's receiver room rested and missed Thursday's practice, including Sammy Watkins (hamstring), Christian Watson (hamstring) and Allen Lazard (ankle).
Marks: I agree with Moody. The Bills are heading to Miami, on short rest and playing in what feels like 100 degrees, so I do like the Fins getting the points. But how about nine road underdogs in Week 3!? I like four of them, so I'm going to play a four-team, six-point teaser at (+260). Dolphins (+11.5), Colts (+11.5) vs. KC in their first game back at home outside of the AFC South. Kansas City could get caught looking ahead to next week's matchup with the Bucs and Tom Brady. I'll also take the panther Panthers (+8.5) vs. New Orleans Saints and Jameis Winston, who is playing with four fractures in his back. Lastly, I'll take the Arizona Cardinals (+9.5) against the Rams, Los Angeles' offense looks off. Matthew Stafford has thrown five interceptions through two games this season and Arizona is coming into this game with momentum after beating the Raiders last week in spectacular fashion.
Schatz: So much depends on the health of the Bills' safeties, Micah Hyde and Jordan Poyer. The Bills were historically good against deep passes last season, putting up the best DVOA ever against passes of 16-plus air yards. I do believe the Buffalo pass rush can get after Tua Tagovailoa, as the Bills are currently fourth in pass rush win rate and the Dolphins are 23rd in pass block win rate. But when Tagovailoa has time to throw, will Poyer and Hyde be back there to stop the deep connection with Tyreek Hill? Will they be there to tackle when Mike McDaniel dials up those long YAC plays? The Buffalo offense is hitting on all cylinders and should have Gabriel Davis back. Xavien Howard can't cover both Davis and Stefon Diggs so I feel confident backing Buffalo and giving Miami points if those safeties are healthy. But if Poyer and Hyde don't play, I'm staying away from this game.
FREE to play. Create up to 5 entries; 60 prizes worth $88,500! Make Your Picks
Fulghum: The Bills have been far too impressive for me to bet against them right now. They've been dominant on both sides of the ball and I see no reason why that changes, barring unforeseen injury. I know the Dolphins are a fun story right now. It's been genuinely fun to watch how McDaniel has exploited the unique skills of his personnel. However, Miami entered the fourth quarter against Baltimore last week trailing 35-14. As highly as I think of the Ravens, Buffalo is even better. I'm only interested in laying the number with the Bills.
Dolan: This may seem random, but I would play the Bills third quarter ML (-126). Buffalo is the highest-scoring third quarter team in the league with an average of 15.5 points scored. The Bills can make half time adjustments that can really help them put points on the board. Plus, Buffalo's defense ranks second against the pass (allowing 149 passing yards) and run (allowing 67.5 rushing yards). On top of that, they have held opponents to 8.5 points per game. Meanwhile, the Dolphins are averaging five third quarter points per game so far and are just not up to the pedigree of the Bills.
Fulghum: I'm not sure who I like in this one. I go back and forth. However, I'm not deterred by the low total. I would play the under 42 in this matchup. Both QBs currently have major trust issues within their offense. Brady doesn't trust his OL. Rodgers doesn't trust his WRs. Both defenses are capable, especially the Bucs who are playing very well and get to play with a home crowd.
Moody: Through two games, the Buccaneers defense has been a juggernaut. Tampa Bay has allowed just 13 points, which is the lowest in the league. Additionally, the Buccaneers have amassed a league-leading 10 sacks and are tied for third with six interceptions. That said, the Packers will be the most complete offense Tampa Bay has faced this season. I'd bet on Green Bay as a +1.0 point underdog. A lack of stability on the offensive line and uncertainty at wide receiver will haunt Tampa Bay in this game. Both quarterbacks should be able to propel the total beyond 41.5 points even with the Buccaneers' exceptional defense. The total has gone over in five of the last meetings between these two teams.
Schatz: The Packers were supposed to have a top-10 defense this year. They haven't had a top-10 defense by DVOA since 2015, but this was going to be the year. So far, it's not happening. They are currently 23rd in defensive DVOA and 30th against the run. They are 10th against the pass but 31st in pass rush win rate. The pass rush isn't getting there. Meanwhile, Tampa Bay currently ranks second in defensive DVOA, including No. 1 against the pass. So, despite the receiver injuries, I'm going to take Tampa Bay as the small favorite at home. I think they can win this game with defense and a big dose of Leonard Fournette on the ground. And Brady will find somebody to throw to.
Marks: Each week the Bucs get more injury riddled. This week they lost another offensive lineman in Josh Wells. Mike Evans is suspended, and their healthiest receiver heading into Sunday is Breshad Perriman, who is dealing with a knee issue as well. The Bucs have not scored more than 20 points a game and Brady has only two touchdown passes this season. Eventually the wheels are going to come off. Give me the Packers with the points!
Snellings: I'll take the Packers and the points. I agree with Anita; the Bucs are just too hit by injuries right now. While Rodgers does have trust issues with his receivers, he's had multiple games to get used to playing with this roster and trying to get the most out of it. The Packers running game is firing on all cylinders, and they've been getting bend-but-don't-break defense with their team holding opponents to 4-for-20 on third-down conversions thus far. Brady loses multiple key cogs every week, and even he needs something to work with in a tough game against a fellow inner circle Hall of Fame QB.
Walder: I'll give you three takes on sides via FPI.
Philadelphia Eagles at Washington Commanders (+6.5, 47)Sunday, 1:05 p.m ET, FedExField, Landover
FPI prediction: Eagles by 2.7
FPI, like everyone else, has been impressed with what it's seen from Philadelphia. But 6.5 points on the road is a bit rich. The reality is that Washington's defense isn't that bad. Carson Wentz isn't great, but he's a huge upgrade over Taylor Heinicke and after two games the Commanders rank ninth in offensive efficiency with Wentz 14th in QBR. The Eagles and Jalen Hurts third and seventh, respectively, in those same categories, but that's why they're road favorites. FPI just doesn't think 6.5-point road favorites is justified.
New Orleans Saints (+3) at Carolina Panthers Sunday, 1:05 p.m ET, Bank of America Stadium, Charlotte
FPI prediction: Panthers by 0.2
For almost as long as I can remember, I've been telling people that Jameis Winston is better than you think, just look at his QBR! It's true. Winston's interceptions in Tampa Bay made him look worse than he was because when he wasn't throwing picks he was completing balls downfield. Even last year in New Orleans in a more conservative style he was very efficient. But in 2022? Not the case, not thus far. He ranks 30th in QBR, which -- to be fair -- is two spots ahead of Baker Mayfield in dead last. But Mayfield isn't the one giving a field goal on the road. And the Panthers' defense has been almost as efficient (12th) as the Saints' (ninth).
Cincinnati Bengals at New York JetsSunday, 1:05 p.m ET, MetLife Stadium, East Rutherford
F