LIV Golf Portland live golf scores, results, highlights from Thursday's Round 1 leaderboard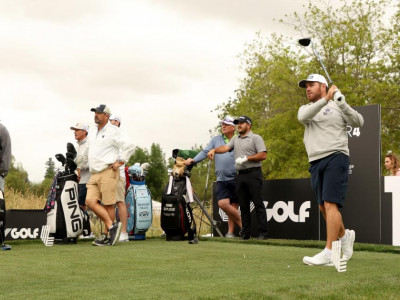 After Charl Schwartzel won LIV Golf London, the new league is coming to the United States. Specifically, it's coming to Portland, Oregon. With it will come a few new faces. Brooks Koepka, Patrick Reed, and Pat Perez highlight newcomers to LIV Golf, as it continues to expand its footprint in the golf world.
So far, there have been theatrics and fireworks ahead of the controversial tournament. LIV Golf members vented their frustrations, saying the PGA Tour got themselves into this mess and that the PGA 'tried to strong arm us.'
Additionally, Brooks Koepka and Pat Perez attempted to reframe their decision to join LIV Golf in contentious press conference, citing travel schedules and family time.
Still, the show must go on.
Taking place at Pumpkin Ridge Golf Club, it will be similar to the format of LIV Golf at The Centurion Club. A shotgun start will kick things off at 1:15 p.m. local time, and players will play through the end of the round. That will repeat Friday and Saturday.
Despite opening to middling views in London, the tournament has remained a topic of hot debate, due to its Saudi Arabian monetary backing and the country's human rights issues, as well as the confrontational tone of its CEO Greg Norman.
Here's what to know about LIV Golf Portland, along with live updates when the event begins.
MORE: LIV Golf's Brooks Koepka, Pat Perez reframe decision to join LIV
This section will be updated when the tournament begins.
See the complete LIV Golf Portland leaderboard here.
7:34 p.m. -- Koepka is still playing through a lot of ups and downs. It's looked like he's settled in for long stretches, but he can't quite tie it together to make a leaderboard run. Dustin Johnson is still near the top, but Kozuma remains the one to beat with about six holes to play.
7:24 p.m. -- A BIG shakeup on the leaderboard, as Tanihara finally breaks serve and bogeys, putting Dustin Johnson on top alongside Tanihara, Grace, and Kozuma. He broke a putt well wide.
7:19 p.m. -- Perez falls out of the second spot with a bogey, while those ahead keep the pace. Tanihara is still seeking the elusive 5 under number.
7:12 p.m. -- Reed takes a good approach as he seeks his first birdie of the day. Koepka is still finding his way up the leaderboard with another birdie, while Jinichiro Kozuma continues to chase his teammate at 3 under.
7:11 p.m. -- Mickelson was able to shoot himself out of a jam there, as a tough lie on a hill gets punched onto the green. While likely a two-putt scenario, it could have been far worse.
7:06 p.m. -- A couple of birdies from Pat Perez and James Piot shake up the leaderboard once again, as Perez moves into a tie for second and Piot breaks even.
7:02 p.m. -- Branden Grace moves into sole position of second place, as Reed continues to struggle and his frustrations mount.
6:53 p.m. -- Tanihara is finally beginning to open up a bit of a lead, as he's two strokes ahead. It's the first multi-stroke lead for a player today.
6:40 p.m. -- Sihwan Kim hits an eagle to bring his score down a more manageable one. Still struggles up and down the board as players try to be the first to 5 under in the first round.
6:36 p.m. -- Now about halfway through, Matthew Wolff is beginning to find a groove and Phil Mickelson finally sinks a putt to get back to even with a birdie. Louis Oosthuizen also birdies to get to 2 under, and Tanihara saves par to stay in the lead.
.@matthew_wolff5 ↩️🕳️Watch LIVE ➡️ https://t.co/eVkdQYJJPp#LIVGolf pic.twitter.com/NRPsY8YVla— LIV Golf (@LIVGolfInv)
6:29 p.m. -- Scott Vincent has crept back up to the top of the leaderboard with a birdie. He's now tied for second behind Tanihara.
6:27 p.m. -- Koepka JUST misses tying the leader with a chip shot. He'll save par to stay a stroke off the leader.
6:22 p.m. -- Bryson DeChambeau gets under par with a nice putt
6:18 p.m. -- Patrick Reed still can't get under par as he pushes a putt just to his left. Showing a bit of frustration early on here.
6:15 p.m. -- Hideto Tanihara has claimed the lead at 3 under, with Koepka, Swafford, and Wiesberger close behind as we approach the halfway point.
6 p.m. -- Newcomer Brooks Koepka has positioned himself atop the leaderboard at 2 under. Ortiz, meanwhile, has cooled off and is out of the top spot for the time being. Mickelson misses a golden chance for birdie and he's still at 1 over.
5:54 p.m. -- With Brooks Koepka and Dustin Johnson breathing down their necks, Wiesberger, Ortiz, Tanihara, and Perez are holding serve at 2 under. This course is playing a lot of people tough, very different from Centurion three weeks ago.
5:50 p.m. -- Dustin Johnson has put himself around the lead with a birdie at 1 under. He's within striking distance of the leaders at 2 under.
5:46 p.m. -- Mickelson is going to bogey on the seventh hole after just missing a chip shop out of the bunker to his left. His difficult day continues.
5:42 p.m. -- Ortiz finally loses paces a little bit, as he bogeys. He is now tied with Wiesberger and Perez atop the leaderboard. Sergio Garcia nearly joins them but comes up just short on a birdie putt. He sits at 1 under.
5:36 p.m. -- After a strong start, Gooch is forced to take a drop after putting a shot in the water on the third hole. That one has been a problem in this early round.
5:35 p.m. -- Bryson DeChambeau and Patrick Reed are still sitting at Par, while Phil Mickelson is lucky enough to stay even. He's had a lot of trouble early on. About 13 holes left to play.
5:21 p.m. -- Hideto Tanihara is playing well out of the gate. First it was a chip shot from the bunker that fell into the cup, then it was a solid putt. He's looking to capitalize on his momentum.
How to play the bunker with Hideto Tanihara 🎯Watch LIVE ➡️ https://t.co/eVkdQYJJPp#LIVGolf pic.twitter.com/Vre4xdtwrR— LIV Golf (@LIVGolfInv)
5:12 p.m. -- Ortiz continues to roll with yet another birdie, giving him birdies for his first three holes. He's atop the leaderboard with Wiesberger right behind him at 2 under.
5:05 p.m. -- Players so far are really living on the green, but the putts haven't been falling yet. Pumpkin Ridge's rolling greens are proving challenging, but golfers should adjust.
4:59 p.m. -- Perez hits another birdie to draw even with Ortiz and Bernd Wiesberger at 2 under. Good start for the fiery newcomer as well.
4:53 p.m. -- A risky shot from Brooks Koepka JUST clears the water on the third hole. That was a gutsy approach for his part, but he'll have a tough second shot coming up.
4:46 p.m. -- Ortiz closes out the second birdie to go 2 under. Hennie Duplessis will also have a shot to birdie with a nice lie on his second shot of a Par 4.
4:43 pm. -- Matthew Wolff is consulting an official after his ball was kicked by a spectator. Wolff is trying to replace the ball in the correct position, and it looks like everything is fine.
4:41 p.m. -- Ortiz is crushing it early, as he puts his second tee shot on the green. In perfect position to go 2 under here.
4:36 p.m. -- It's been a choppy start in Portland, with a lot of players bogeying or double bogeying their opening holes. Mickelson will get a chance to test his putter again, and Koepka shoots just off the fairway on his second hole. Seven players sit at one under.
4:33 p.m. -- As Dustin Johnson bogeys, Mickelson saves par after keeping his birdie putt just to the left.
4:30 p.m. -- Carlos Ortiz hits a terrific birdie on nine that teeters on the cup before conceding and falling in. Good start for him as well.
4:24 p.m. -- Pat Perez birdies on Hole 3 in his inaugural LIV hole. Good start for him.
4:21 p.m. -- Some strange approaches here early, as some shots are angling incredibly low and others are just too hard down the green. Players seem to be trying to figure Pumpkin Ridge out in the early going.
4:19 p.m. -- Phil Mickelson slices his first shot out of bounds, so he'll be dealing with a tough lie on the second hole.
4:15 p.m. -- We're underway at Pumpkin Ridge! Brooks Koepka's first tee shot gets us started in Portland, as the shotgun start gets things rolling in the second LIV Golf event.
LIV is promoting itself through accessibility. LIV Golf Portland can be watched through YouTube, Facebook, or the LIV Golf website around the world.
LIV Golf says tournaments "will also be aired live on a global roster of leading premium and free-to-air broadcasters providing coverage in 138 territories around the world."
Here is the complete broadcast guide by country.
MORE: LIV Golf tour format, explained: Weekly drafts, lucrative payouts to players
LIV Golf will not be broadcast on cable TV in the United States, so streaming is the only option.
Viewers in the U.K. can watch coverage on DAZN and Sky.
LIV Golf events will use a shotgun start, in which every player in the field tees off at about the same time from different holes and completes the course in order from there.
Play is expected to begin at 4:15 p.m. ET each day.
Teams for LIV Golf events are drafted each week by tour-selected captains. Here's the lineup for the Portland stop: