25 Best Sweatshirts of 2023: Best Cool Sweatshirts for Lounging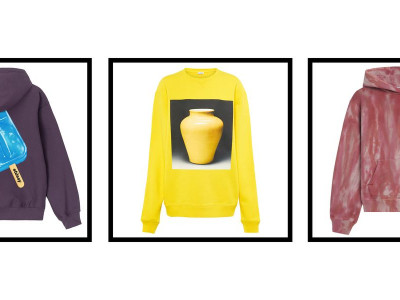 Ask a friend about their lazy-day outfit, and it invariably involves a sweatshirt—usually styled with the best leggings or sweatpants. This comfy pullover style, usually knitted from fuzzy cotton, has become a go-to staple for post-work Bachelor binges, trips to the gym, and weekend coffee outings. But, the best cool sweatshirts don't just make you feel cocooned up and cozy, they actually have the potential to make a casual outfit something more eye-catching. Splash graphics, designer logos, and bold colors all contribute to that It-factor.
"I'm a fan of the more interesting, unique sweatshirts," says Kevin McIntosh Jr., founder of KMJR Studio Worldwide, who represents clients like MadHappy and Guest In Residence. His go-tos include options from bold brands like Marni and Dries Van Noten. "If it has a raw edge or if it's ribbed, that makes it cool. Also, a play on words or an interesting graphic that pulls your eye." When looking for a style that has the power to instantly upgrade your outfit, bold colors and the right fit — whether that be oversized or cropped—can make all the difference in taking things from couch-worthy to date-worthy, or dare we even say it, fancy.
McIntosh also recommends keeping both the weight and feel of a sweatshirt in mind when you're looking for something that's worthy of wearing every day, similar to when you're shopping for a similarly cozy winter sweater. "Personally, I enjoy sweatshirts on the heavier and softer side. It's kind of rare to find the perfect mix of that," he says. Ahead, find the 25 best sweatshirts that fit the bill if you're looking to add a little something cozy and cool to your life.