BAZAAR Nice Saves: 15 Best Sales Including Ganni, Skims, & More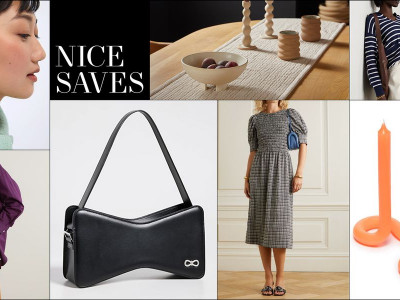 Welcome to Nice Saves, BAZAAR's destination for the best editor-approved sales from across the internet each week.
While true marathon sale events happen only a few times a year, you don't have to wait to save on the items you've been eyeing for months. At BAZAAR.com, we're dedicated to uncovering the best deals on a weekly basis for the good of your closet.
What's on this week's wish list? Cozy Alex Mill sweaters, playful Ganni dresses, and a highly sought-after Savette bag are a few of the highly discounted pieces we spotted in the latest round of Net-a-Porter's winter sale. Savings are now up to 80 percent off—and layering gems that will take you from the slushy end of winter straight into spring are selling out fast. J.Crew, Helmut Lang, and Farfetch are also giving savings on top of previous savings this week, with deals on everything from party dresses to housewarming gifts. And if one of your New Year's resolutions involves reading more, Barnes & Noble has brought back its 50 percent off sale on hardcover books for your entertainment.
As we know too well, the most coveted deals are often here today and gone tomorrow. Read on for our short list of certified nice saves worth adding to your online shopping cart this week (before they're out of stock).