17 Cute Swimsuits for Women: 17 Best Bathing Suits for Women 2023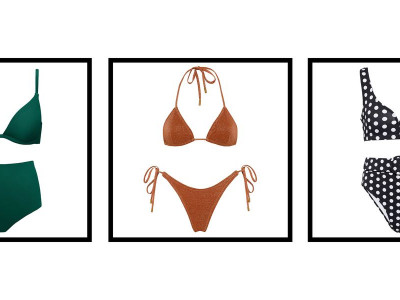 Shopping for a cute swimsuit can get a bad rap. For most of us, it's grouped into the category of clothing that feels like a chore to try on, like trendy jeans or a seamless bra. And with the seasonal misconception that swimsuits are only a summer staple, we often don't look for a new suit until it's too late. But winter escapes into the sun are definitely a thing—and you'll never regret finding a piece you love early. So if you need a 2023 shopping resolution, stop procrastinating on the swimsuit search and get ahead of the game.
There's a lot to consider for such a little bit of fabric. From size-conscious bikinis to the best one-pieces, silhouette selection is the first step in finding the best swimsuit for you. Once that is finalized, think about the intended use. A sporty scoop neck from Vitamin A can provide extra support for swimming laps, while a printed halter from Camilla may be best for poolside lounging. New York–based stylist Aleksandra Markovic also likes to think about how much use she can get out of the style. "I love a good one-piece swimsuit that I can wear often in the city and style it as a part of daily outfits," she explains. A neon cutout option from Agent Provocateur can double as a bodysuit for a night out.
The most important detail in choosing your cutest swimsuit though? Feeling good in it. Kaisa Keranen, a fitness trainer and C4 Energy ambassador agrees: "The number one thing I'm looking for is to feel sexy and confident, but still comfortable at the same time." And because there's an ocean of options to choose from, we've curated our 17 favorite swimsuits out there now. Get ready to make a splash in these beachy, breezy styles.