Did Florence Pugh Wear a Revenge Dress to the Don't Worry Darling Premiere?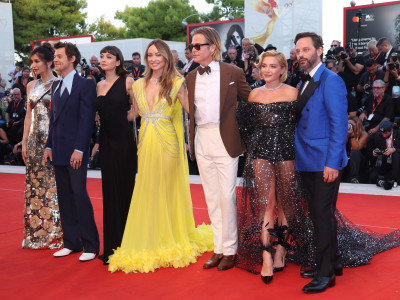 After years of toned-down glitz and virtual red carpet events, Don't Worry Darling is single-handily bringing Hollywood drama back to the cinema. But not in the way it intended to.
Starring Florence Pugh and Harry Styles, the psychological thriller directed by Olivia Wilde was the big ticket item at this year's Venice Film Festival. But on the red carpet, the movie's off-screen feuds became uncomfortably apparent. From covert falling-outs to murky relationship timelines, the gossip surrounding this film has grown a life of its own. And now, it has infiltrated the outfits. Let me explain.
Gracing the premiere wearing Valentino Fall 2022 Couture and feathery heels, Florence Pugh made a theatrical entrance with her grandmother on her arm. Her sheer black off-the-shoulder dress, with built-in hotpants and a winding train, evoked an avant-garde air of defiance. Meanwhile, her co-star Harry Styles opted for a retro look in a navy Gucci suit jacket worn over an exaggerated pointed collar. At risk of stating the obvious, navy and black isn't usually a winning combination. And while they were independently well-dressed, there was nary a single connection or couple shot in sight. Herein lies the problem.