Lukashenka Orders To Get Ready To Impose Martial Law Following Russia's Resignation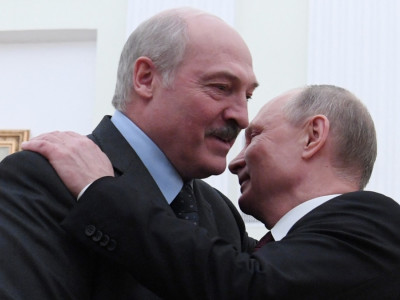 The dictator said that his regime is obliged to support Russia.
Dictator Aliaksandr Lukashenka instructed to begin preparations for the state defence under wartime norms. According to him, one cannot simplify to the military training now, as the situation is "serious" and "even dangerous".
"We have to raise some military unit on alert according to the wartime norms. We have to mobilize it so that we can see whether the people assigned to that unit are alive or not. The territorial defence shall be raised. We need a people's militia - to check on the spot what kind of fighters we will have and what kind of weapons they have," said Lukashenka during a meeting with Secretary of State of the Security Council of Belarus Aliaksandr Valfovich (quoted by BelTA).
The usurper, in particular, is concerned about the situation on the southern border. "I instructed you, the Defense Ministry, all the security agencies to work out in practice our actions on the border with Ukraine. What is the situation now and how will we proceed there?" the dictator asked Valfovich.