The Chinese company presented a computer case with a built-in aquarium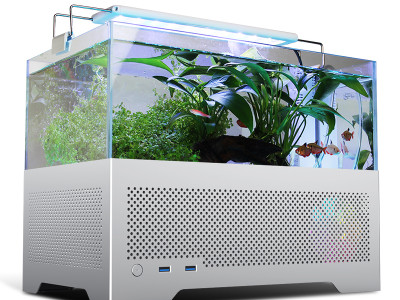 A Chinese company has released an unusual computer case — an aquarium is built into it.
The total size of the strange device is 370x250x290 millimeters. The aquarium occupies half of this volume. The kit includes a pump, filter and USB-powered water aeration oxygenator.
The manufacturer claims that a Micro-ATX and Mini-ITX format motherboard and other computer components can be installed in the case, in particular, a video card up to 200-220 mm and a compact 1U or FlexATX power supply unit. All computer components are located in a separate case below. It is protected by a plexiglass layer from possible ingress of water.
Inside the aquarium case, you can install one 2.5-inch disk drive, two 90 mm fans, as well as a processor cooler up to 90 mm high, the manufacturers say.
Please donate for our edition and Ukrainian people. How to Donate?