Patrick Mahomes stops Travis Kelce's impromptu attempt to speak at unattended mic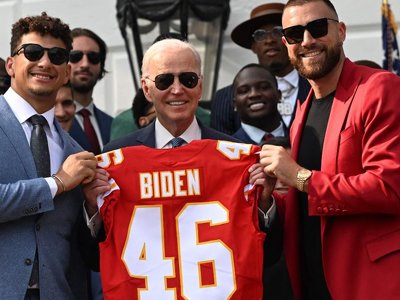 Travis Kelce has had some NSFW moments with a mic at his disposal. Patrick Mahomes wanted to make sure he didn't have the chance to say anything on the mic stand featuring the seal of the president of the United States.
President Joe Biden welcomed the Chiefs to the White House on Monday to honor the Super Bowl champions. As Biden and Mahomes continued taking photos with a Chiefs' Biden jersey, Kelce saw an opportunity to step up to a wide-open microphone.
"So I've been waiting for this," Kelce said as he reached the mic.
Mahomes, however, intervened, pushing Kelce away from the mic and apologizing for the moment.
Travis Kelce wanted to get on the mic at the White House....Patrick Mahomes got him outta there 😂😂pic.twitter.com/gsCi1ygsnd— Ari Meirov (@MySportsUpdate)
MORE: Latest on DeAndre Hopkins' free agency status
Kelce might have felt he was being called on to have some sort of moment like that during the celebration of his team's second Super Bowl title. The White House band played "Fight For Your Right" by the Beastie Boys, a song that Kelce referenced in a speech after his team won the 2020 AFC Championship.
Not the White House band playing 'you gotta fight, for your right to party' 😂😭 also this gave me chills. Go Chiefs!!!! ❤️💛 pic.twitter.com/bZNIkUqToi— Lexi (@lexiosborne)
Biden had plenty of praise for Mahomes and the rest of the Chiefs team. He called the signal-caller "one of the greatest quarterbacks of his generation, and I predict of any generation."
The president also praised Kansas City as being able to "bring out the best in each other."
President Biden praises the Kansas City Chiefs' Patrick Mahomes as "one of the greatest quarterbacks … of any generation" during the team's visit to the White House to celebrate the Super Bowl win. pic.twitter.com/MRAl51WgxR— The Recount (@therecount)
MORE: Chiefs among top potential landing spots for Hopkins
Unlike Kelce, coach Andy Reid had a chance to speak at the mic and address the crowd. Reid was excited to speak in front of the crowd after his previous title-winning team had their White House visit canceled due to the COVID-19 pandemic.
"It's been a long wait to stand before you," Reid said. "We're fired up. We missed the first one due to COVID, but we are here strong man. Kansas City strong."
And for those who thought the Chiefs might be done at the top, Reid warned them not to make the same mistake as last year, predicting that next year, the Chiefs will be right back at the White House podium.
"Nobody believed in us before," Reid said. "I'm sure it's going to be that same way this time, and we come out and prove them wrong."