Udonis Haslem slams Ron DeSantis for ruining Florida's reputation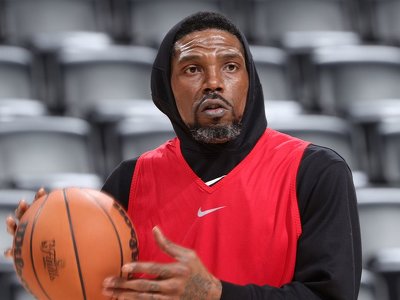 Udonis Haslem is the quiet rock of Miami, as he's been for 20 years — but the Heat forward is ready to get loud about Ron DeSantis ruining Florida's reputation with culture wars and book banning.
Haslem was asked ahead of Game 2 of the NBA Finals what it's like to be a Florida native in the current political and social climate. Speaking to the Boston Globe, Haslem wanted it to be clear that not all Floridians are behind DeSantis' platform.
"Well first and foremost I'm going to ask people out there to stop Florida-shaming us. Everybody ain't down with what's going on in Florida. People think that because you live in Florida, like you just down with the [expletive]. We're not. I'm not down with it. I'm not happy about it."
DeSantis has turned his governorship into a personal platform for a Presidential run, using increasingly oppressive and authoritarian mandates to court voters from the vilest corners of society, regardless of what it means for Florida. Since being elected in 2019 DeSantis' "victories" include:
Up to this point Haslem has been quiet about politics, but with the situation in Florida getting increasingly worse, he's decided it's time to raise his voice.
"I happen to live there and I was born there. It's not my fault. So please stop Florida-shaming us people. We're not happy about what this man [DeSantis] is doing. Diversity and inclusion and taking the [books away]. We're not happy about that. I sit at home on the couch with my wife and raise hell."
In addition to opposing DeSantis' war on diversity, equity and inclusion, Haslem questions why the priority following the Parkland High School shooting is to put more guns into the hands of Floridians.
"You complain about what's being taught in school but we took away the gun [law] where you can buy a [expletive] assault rifle at 18," Haslem said. "I'm confused about what's the priorities. We're talking education and in the midst of all of this gun violence going on around the world, how about we just drop the gun laws and make it easier for them to get guns? The [expletive] is confusing to me, that's why I'm not a politician."
Haslem admits that he can't be a significant agent of change, however, he is doing everything he can to encourage people to vote. In 2022 when DeSantis was re-elected governor only 46 percent of registered Miami voters participated in the general election.
"It's very disappointing and I'm the father of three, three Black men. Three boys that are coming up and I would love for them to learn in school about what the hell is really going on and what happened. But that's out of my control. All I can do is get my ass up and vote. That's what I'm going to do. I'm going to continue to encourage everybody around me. That's all I can do."
The Heat forward isn't just offering hollow words. In recent years he's been quietly instrumental in improving the lives of Miami's most vulnerable citizens. Haslem has partnered with mental health and drug rehabilitation facilities in the city, as well as helped organizations seeking to offer affordable housing.