Aaron Rodgers landing spots: Jets lead slim market of possibilities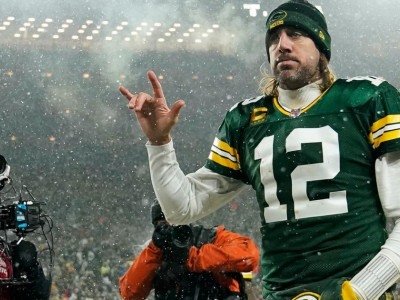 Where will Mr. Rodgers' neighborhood be in 2023?
The Packers and the four-time MVP quarterback appear to be headed for a split this offseason, with the rumor mill churning about a potential trade in the coming months. So, where will he go?
According to reports, we already know where he won't go: Any one of the 15 other NFC teams. The Packers, reportedly, won't ship Rodgers to anyone in the NFC, which cuts his market quite dramatically.
When looking at the QB-loaded AFC, there are very few openings across the conference. In fact, you can count all the QB-needy teams on one hand: The Jets, Titans, Texans, Raiders and Colts will be in search of new passers this offseason, but only three of those teams make the most sense.
MORE: Aaron Rodgers trade rumors — Latest news and updates surrounding Packers QB
Here's who they are:
It almost makes too much sense. There are a few reasons why.
Owner Woody Johnson has made it clear he's not scared of the sticker shock that may come with a trade for a big-name quarterback. Some view the Jets as a just-add-water Super Bowl contender thanks to their elite defense. The Jets haven't gotten much of anything from 2021 No. 2 pick Zach Wilson, but the team has been adamant that it's not moving on from him (we'll get back to point that in a second).
The Jets have some skill position players that would blossom under Rodgers: Disgruntled wide receiver Elijah Moore would likely salivate seeing Rodgers in green and white, while likely Offensive Rookie of the Year Garrett Wilson would hit a new gear playing with a future Hall of Famer, too. In the backfield, the Jets will roster Breece Hall and Michael Carter, two young and budding running backs, while two solid tight ends in C.J. Uzomah and Tyler Conklin provide solid safety blankets.
If the Jets decide they want to hold on to Wilson — trading him to Green Bay wouldn't make a whole lot of sense from the Packers' side, anyway — then an offseason or two underneath his idol would potentially do the young QB some good.
The Titans took Malik Willis in the 2022 NFL Draft, but his limited playing time as a rookie wasn't exactly inspiring. Some felt Willis was a bit of a project, which means they could buy themselves some more time with an elite veteran passer in front of him. That's where Rodgers comes in.
Interestingly enough, the Titans were a rumored suitor for Rodgers last offseason, with Rodgers reportedly buying a home in the greater Nashville area. That, obviously, didn't come to pass, but not much has changed between last season and this for the Titans. Well, aside from the whole trading A.J. Brown thing.
It's unclear how appealing the Titans would be to Rodgers with their lack of top-level weapons, and it's also unclear how new general manager Ran Carthon would approach a trade for the quarterback. Would he want to jump into the deep end of the pool in attempt to jut open the Super Bowl window, or would he want to build a winner through the draft? Those are not insignificant questions to ask.
MORE: Joe Burrow vs. Patrick Mahomes: How budding QB rivalry compares to Tom Brady vs. Peyton Manning and more
The Raiders have been a rumored landing spot for Tom Brady, but in the event that Brady finds a more appealing option — or if he decides to hang up the cleats — then Rodgers could find himself in Sin City for spell.
Vegas is very much done with Derek Carr, and there's a world in which Rodgers would thrive in Josh McDaniels' offense, which focuses on a strong running game and spacing and option routes within the wide receiver corps. A complex learn, Rodgers likely wouldn't need a ton of time to get acclimated. Plus, if you're moving on from Carr, you're probably not sticking your hopes to a rookie passer.
Oh, and it would reunite Rodgers with wide receiver Davante Adams. You may have heard that those two have a history.