NBA Scores: Bam brings the heat in Miami's dogfight win over Celtics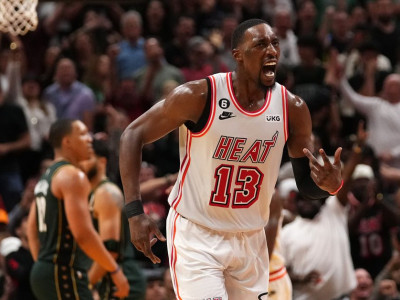 Plays like these — ones he wasn't regularly making until this season — can vault Jayson Tatum from perennial All-Star to probable perennial MVP contender:
And it's plays like these that will keep him on the outside looking in until he can rid his game of them:
Before Tuesday's game, Miami center Bam Adebayo noted that they "always try to make it a dogfight" when his Heat face the Celtics. And no word better captures the energy of Tuesday night's tilt than that one: dogfight. It was close for a while, and then Boston took a lead that grew as large as 14 points. But the Celtics managed just 13 points in the fourth quarter, resulting in their late collapse, one perfectly punctuated by Tatum's sloppy turnover in the game's closing seconds.
As a result, Boston lost its second game in as many nights, and now finds itself on a mini-losing streak. It comes directly on the heels of a nine-game winning streak that was snapped in Orlando on Monday. Sure, the C's were without Jaylen Brown, Marcus Smart, Malcolm Brogdon, and Al Horford, but Miami was missing Jimmy Butler and got a four-of-19 performance out of Tyler Herro. But the likes of Bam Adebayo (30 points and 15 rebounds) and Haywood Highsmith (15 points and 10 rebounds) made up for things to give the Heat their second win in a row.
Despite stuffing the stat sheet with 31 points, 14 rebounds, and seven assists, Tatum also recorded seven turnovers — and Boston finished with 17 total, to Miami's seven. The bench provided nothing: just 10 points to the 39 poured in by Miami's backups. It was a game the Celtics somehow won, yet had no business being in based on its bevy of mistakes. It's a loss that could get lost in time as one characterized by the players that were missing in action, but perhaps it should be remembered as a pure demonstration of their many potential pitfalls as a squad.
Related
LeBron James can't stop going off. He poured in 46 points on Tuesday, hitting a career-high nine three-pointers — he now has at least one 40-point game against all 30 teams in the NBA, given that this was his first career 40-piece against the Clippers.
But the Lakers lost. Because of course they did. They allowed the Clippers to jump out to an early lead, one that grew as large as 23 points and one that they would never relent. The Clippers drained 19 triples to dwarf LeBron's epic total. Paul George led the way for the Clippers with 27 points and nine rebounds, while Kawhi Leonard added 25 and nine of his own. Leonard is averaging 29.3 points per game in his last eight outings; perhaps he's thinking he's back.
Related
Related
DeMar DeRozan will likely receive his sixth-career All-Star nod in a matter of weeks — if voting is any indication, that is. But man, does he deserve a new home, one where he might have a support staff that could ostensibly contribute to winning. Once again, he led the way for his team — actually, for both teams — in scoring with 33 points, but his Bulls ultimately fell to the previously-sputtering Pacers. Chicago was outscored 70-48 in the second half; that pretty much sealed it up, as its three-game winning streak was snapped.
For Indiana, though, the comeback win snapped a seven-game losing streak. The Pacers were led by 26 points apiece from Bennedict Mathurin and Myles Turner. T.J. McConnell (20 points and 10 assists), Buddy Hield (19 points), Chris Duarte (11), and Terry Taylor (11) also finished in double-figures to fuel Indiana's victory.
Related
Had you seen this matchup on the calendar a month or two ago, you'd have considered it appointment viewing. But at this stage of the season, as the Pelicans remain without the services of Zion Williamson (sidelined due to a hamstring injury since Jan. 2) and Brandon Ingram (last seen in action on Nov. 25, when he sustained a toe injury), you'd have been forgiven if you saw this one unfolding with a whimper.
NOT SO. The Pelicans trailed by as many as 19 before storming back in the second half to make this a game before ultimately falling in the final seconds. Nikola Jokic — returning after a two-game absence caused by a hamstring injury — punctuated his 15th triple-double of the season with a floater that put the Nuggets ahead with 16 seconds left. New Orleans had multiple chances at game-winner, yet Denver's defense held strong, blocking a putback and forcing two other misses to seal it.
JOKER FLOATER.NUGGETS WIN. pic.twitter.com/hp2eIjbqUy— NBA (@NBA)
Jokic finished with 25 points, 11 rebounds, and 10 assists, while Jamal Murray added 25 of his own for Denver, which is now 17-3 in its last 20 games. CJ McCollum scored 20 to lead the Pelicans, but shot just nine-for-22 in the team's fourth-straight loss.
Related
It's not every day that Luka Doncic throws away a game. No, literally.
Not his best work in an otherwise impressive outing; he dropped 41 points, pulled down 15 rebounds, and dished out six assists despite the loss. He even got help this time around! Dwight Powell (22), Spencer Dinwiddie (20), Josh Green (16), and Dorian Finney-Smith (12) all finished in double-figures for Dallas, but it wasn't enough. Washington — led by Kyle Kuzma's 30-piece, plus an additional 22 points from Bradley Beal — made more free throws in the end. And then Luka tossed them the game for free. Even though it looks close, the final moments of this unfolded with a whimper.
Related
The Knicks have gone streaking a ton this season, in just about every way one can imagine. They'll win six in a row, then lose four or five in a row; it can't be a comfortable lifestyle. And yet, they've made it work, as Thibodeau's boys remain squarely in playoff contention in the Eastern Conference. Tuesday's night's win, which ended New York's four-game slide, should help.
Leading 105-100 with under a minute remaining, the Knicks let Darius Garland gallop his way to a reverse and-one layup, cutting the lead to two. In the end, the Knicks survived a shot-clock violation and an Evan Mobley fadeaway attempt to hang on for a much-needed win at home, something they hadn't done since Jan. 11 against the Pacers.
The Cavs are 4-6 in their last 10. That early-season shine might have officially worn off.
Related