LIVE: USA vs. Japan friendly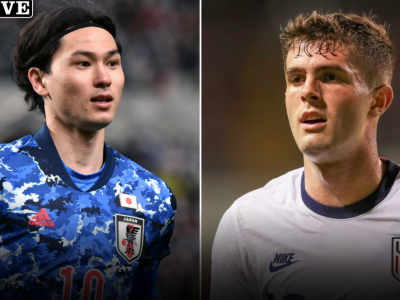 The USA men's soccer team will face a stiff test as it takes on Japan in Dusseldorf, Germany in a pre-World Cup friendly that fans and coaches hope will answer the many lingering questions as the tournament in Qatar rapidly approaches in November.
Head coach Gregg Berhalter has tactical and personnel decisions to make and he'll be hoping some of those are resolved out on the field in Germany. There are questions to be answered at the goalkeeper, center-back, and striker positions, and while not everything will be figured out in a one-week span, these 90 minutes will play a factor in his eventual roster choices as he plans to face Wales, England, and Iran in Group B.
Fellow World Cup participant Japan will present a very difficult challenge, as the Asian nation has positioned itself atop their continent's hierarchy and improved the squad depth and talent on a team that narrowly missed out on a massive upset over Belgium in the 2018 Round of 16.
The Samurai Blue have their own decisions to make on the field at various positions, as head coach Hijime Moriyasu prepares his team to face a difficult World Cup Group E that includes former champions Germany and Spain.
The Sporting News will be following the USA vs Japan match live and providing score updates, commentary and highlights as they happen.
MORE: Projecting USA's World Cup roster | USMNT schedule
Goals: 24th min — JPN — Daichi Kamada
44th min: Finally, a moment of danger created by the U.S. up front as Sam Vines feeds Gio Reyna on the overlap, but his cross is cleared. Promising, but the U.S. will need much more than that to break down the Japan back line and get back level.
40th min: Brenden Aaronson has taken a number of lumps in this match, down holding his back after taking a charging knee on the right flank. Eventually, he's up, and the U.S. has a dangerous set-piece opportunity from near the right touchline. It'll be Reyna with the deep delivery...he goes to the far post for Zimmerman, who is excellent in the air, but his header back into the mixer is cleared.
35th min: The U.S. are trying to play out of the back, and it's been a complete disaster. Zimmerman and Long are both completely unsure of what to do every time a Japanese attacker presses them in possession. There are no options at all. The two center-backs are completely off the mark with their passes, putting each other under pressure and unable to find an option further forward. A total tactical nightmare.
The #USMNT has been sloppy and careless through the first half hour here in Dusseldorf. Way too many giveaways in the middle of the field. Poor touches. Bad decisions.— Paul Tenorio (@PaulTenorio)
27th min: Goodness gracious, Japan are right back into the attack after the restart. Matt Turner comes out to smother the attempted through-ball assist, but it's just too easy right now for Japan to carve the U.S. to pieces.
24th min: GOAL! JAPAN! The Japanese believe they have the opener, but the offside flag nullifies the chance! Ito has the ball in the back of the net, AGAIN after a midfield loss of possession. Kamada is all alone on the back post, and he delivers a curling ball into the back of the net. The flag denies the chance, but apparently — much to the surprise of the ESPN crew — there is a VAR review. After the check...it's a goal!
McKennie gives the ball away in midfield, Dest was high up the pitch, and Zimmerman couldn't recover to mark the open man at the far post.
Japan strikes first with a finish to the bottom corner! pic.twitter.com/qKVzVOzMoV— ESPN+ (@ESPNPlus)
23rd min: Chance, Japan! The Asian side comes close again, as Ito sends in a nifty ball to Maeda on the doorstep, but it's just inches out of reach as Maeda went sliding to reach it. He'd gotten free from his defensive mark and would have had an opportunity to score from a tight angle had he been able to make contact.
18th min: Goodness, more last-ditch defending needed by the United States. It's another giveaway in the defensive half, this time by Luca de la Torre, who looks lost in midfield through the opening 20 minutes. It takes just two passes to get Japan into a dangerous position, but shepherded away at the last second by Zimmerman.
Luca de la Torre is having a really poor first 20 minutes for the #USMNT. He's completely off the pace, has been muscled off the ball multiple times, and seems constantly under pressure while in possession. He's very unsure while being pressed.— Kyle Bonn (@the_bonnfire)
13th min: Chance, Japan! The turnovers continue to plague the U.S. center-backs. This time it's Walker Zimmerman who passes the ball right to Kubo in the U.S. defensive third. Kubo instantly breaks and finds Daichi Kamada, whose shot is saved very well by Matt Turner. A great sign for the U.S. goalkeeping situation that Turner can get down for that reflex save, but YIKES from Zimmerman.
A very shaky start from the U.S. overall.
.@headdturnerr called into action early pic.twitter.com/9nDfcdzLep— U.S. Men's National Soccer Team (@USMNT)
10th min: There are significant concerns with the pitch in Dusseldorf, being relayed by the ESPN broadcast crew. The pitch is extremely slow, and color analyst Taylor Twellman said he could see the players were struggling it in warmups before the match. There are already significant divots in the pitch just 10 minutes into the match, and Jon Champion mentions that he thinks it's been cut poorly.
This field is a bummer. #JPNvUSA— Alexi Lalas (@AlexiLalas)
8th min: Chance, USA! The U.S. builds forward well down the right through Sergino Dest, and the cross reaches Jesus Ferreira. The striker heads over the bar. It's a poor effort from the FC Dallas man, who should have put the U.S. in front early with its first real effort on goal.
4th min: The U.S. is asserting possessional dominance early in this match. Aside from the one early counter, Japan has hardly sniffed the ball through the opening five minutes. McKennie wins a foul on the right flank, then Luca de la Torre is wrestled off the ball for Japan to regain a footing in the game.
2nd min: Tough start for the aforementioned Long, who gives the ball away on the left flank and it results in a Japan counter-attack. The eventual shot is right into the waiting arms of Matt Turner, and the U.S. get away with an early mistake. Long will have to be better in possession to impress the coaches.
1st min: The match is under way in Dusseldorf! Big day for a number of U.S. players looking to earn spots on the World Cup roster, but likely none bigger than for Aaron Long who has a chance to earn a place at center-back.
8 mins to kick: ESPN just ran a package on Gio Reyna on their broadcast, an honest chat with Sam Borden about his injury struggles, including the mental health side of his fight to return to the field. It was an enlightening and emotional discussion, just two days after forward Jesus Ferreira spoke to the media about his own mental health journey in the sporting world.
Thankfully, it looks like Reyna is all smiles now as he makes his first start in over a year. The trip for the 19-year-old from Dortmund to Dusseldorf is a quick one, just over an hour. You can get all the latest USMNT injury news here.
34 mins to kick: The U.S. doesn't play friendlies on neutral sites very often. They've played matches in Europe before, but usually on the road at an opponent's home field, such as against Wales, Northern Ireland, or Switzerland over the last few years.
15 - The @USMNT's match against Japan in Düsseldorf will be just the 15th neutral site friendly in program history. Rare. pic.twitter.com/F6nExaYVc5— OptaJack⚽️ (@OptaJack)
45 mins to kick: The Japan lineup is out, and there are some wrinkles for the opponent today as well. No Furuhashi in the starting lineup as his Celtic teammate Daizen Maeda starts up top. Arsenal full-back Takehiro Tomiyasu starts as part of a back three, while Takefusa Kubo plays the No. 10 role.
60 mins to kick: The USMNT lineup is out and there's no Christian Pulisic after he took a knock in training earlier this week, and he misses out as a precaution. Instead, Brenden Aaronson moves over to the left, while Gio Reyna starts on the right wing.
Christian Pulisic is off today's roster because of a knock he took in training earlier this week. He will be evaluated day-to-day for his availability to play against Saudi Arabia on Sept. 27 in Murcia, Spain.Full Lineup Notes » https://t.co/35LTfvIAtc https://t.co/M2e44lSx38— U.S. Men's National Soccer Team (@USMNT)
90 mins to kick: Get to know Japan forward Kyogo Furuhashi. He's one of three Celtic players on the Japanese squad, including Reo Hatate and Daizen Maeda.
🇯🇵 @Kyogo_Furuhashi's Japan are action this afternoon against USA!Our number 8️⃣ is up next to take on 'This or That' 🙆‍♂️IRN BRU or Ramune❓World Cup or Champions League❓Iniesta or Hatate❓Agree with Kyogo, Celts? 🍀 pic.twitter.com/0AU9mSRMJw— Celtic Football Club (@CelticFC)
120 minutes to kickoff: While the United States are missing Yunus Musah for this international window, the "MMA" midfield has developed a critical — and quite frankly, fun — base of chemistry. That was never more evident than yesterday during the pre-match press conference, where Weston McKennie and Tyler Adams were in a playful mood, answering a number of questions in a jovial manner.
It's fun for fans to see the players so open and comfortable, and it's a great sign that the team has fostered a culture of comfort that allows the players to be themselves. Fans will hope that materializes on the field as well, as players feel able to express themselves on and off the ball.
Matt Turner plays in goal behind the center-back pairing of Aaron Long and Walker Zimmerman. Sam Vines is in for the injured Antonee Robinson at left-back, while Luca de la Torre starts for the injured Yunus Musah in midfield. Up front, there's no Tim Weah on the roster due to injury, meaning Brenden Aaronson and Gio Reyna will see time on the wings with Christian Pulisic of