These 17 Shearling Coats Are Extremely Versatile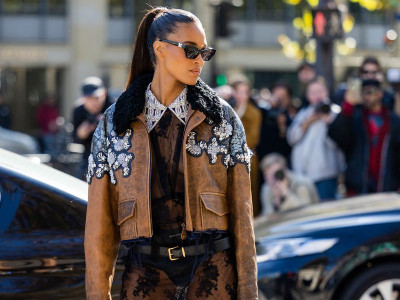 Almost Famous is a movie, but it might as well be an adjective. The shearling Penny Lane coat Kate Hudson wears throughout the film basically has top billing, and when I found my dream shearling coat on Etsy recently, the description read, "Shearling-lined Penny Lane dream from the '70s—very Almost Famous." Whenever I step outside wearing it, someone tells me I'm "giving Kate Hudson as Penny Lane," even though I look nothing like Kate Hudson. Shearling coats just have that kind of transformative star power that instantly passes on to whoever wears them.
Wil Beedle, founder of Shoreditch Ski Club, agrees, and that's actually why he decided to focus his brand on shearling coats. "There's just such a tactility to them, which means they can be transformed into the most beautiful sculptural shapes that maintain their depth and richness," he tells me over email. "They also have a kind of transformational quality, which, unlike many jackets, means you can throw them on with jogging bottoms and slides, and still look super chic."
The name of his brand is a nod to the shearling coat's versatility: You can just as easily wear one on the slopes as you can on the streets of Shoreditch. "We see people in many different settings wearing them in all sorts of different ways—layered up like a cocoon in Aspen, or slouching round the city paired with cashmere pants for that high-low dressing vibe," he says. "It all works, that's the beauty."
The shearling coat is also one of the only coats out there that people wear regardless of the weather. Sure, it keeps you warm, but most importantly, it makes you look cool—like you could be a rock star girlfriend, evidently. Though there are plenty of options to choose from, Beedle suggests looking at the cut and materiality when making a decision. "Like everything else, there are enough shearling jackets in the world already," he says. "So to justify making a new one, it has be something that hasn't been done before—whether that's the way it's tanned and color-blocked or the way it's cut."
Finding a shearling coat reminiscent of Hudson's in Almost Famous is a worthy goal, but there are also plenty of shearling coats in fashion history that are just as inspiration worthy, like those made by Nicolas Ghesquière for Balenciaga or Margiela for Hermès. And, of course, there are plenty of new brands like Saks Potts, Stand Studio, and Shoreditch Ski Club that are making the classic coat go viral in 2023. Shop our 17 favorites below.