Aaron Judge Triple Crown tracker, updated stats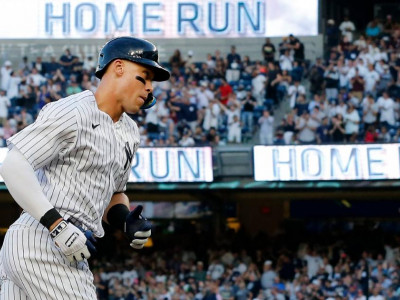 As the MLB season winds down, all eyes are on the Bronx as Aaron Judge seeks milestone after milestone.
The Yankees outfielder is already at 60 home runs and counting, but he's also looking for another exceptional rare achievement: The Triple Crown. Just one Triple Crown has been won since Carl Yastrzemski in 1967, with Miguel Cabrera achieving the feat in 2012 with the Detroit Tigers.
Judge has flown onto the Triple Crown scene in a year where it looked like the National League might produce a leader in batting average, home runs, and runs scored. Paul Goldschimdt looked like a real threat in St. Louis, but he's now off Kyle Schwarber's home run pace.
Judge already has two categories -- home runs and RBIs -- all but locked up. He's now fighting with Luis Arraez of the Twins and Xander Bogaerts of the Red Sox for the batting average title. He's currently tied with Bogaerts for the league lead.
MORE: How likely is it that Aaron Judge leaves the Yankees?
Here's what to know about Judge's court with history.
For those not in the know, the Triple Crown is when a player leads either the American or National League in batting average, home runs, and RBIs.
The feat is exceptionally rare, particularly in modern baseball, where contact is often sacrificed in favor of launch angle.
While the Triple Crown used to less rare, it is nearly unheard of in today's game. Cabrera won MVP in 2012 with a batting average of .330, 44 home runs, and 139 RBIs. The latter two stats led baseball.
Before Cabrera, the most recent player to win the award was Yastrzemski, who batted .326 with 44 home runs and 121 RBIs.
Judge has the home run and RBI races all but locked up, as he has an insurmountable lead over Yordan Alvarez in the home run category and a sizable one over Jose Ramirez in RBIs.
Where the race is tighter is in batting average, where he is edging out Arraez and Bogaerts. Indeed, it's shocking Judge is even in this position, given that his batting average was down to .282 as recently as July. Judge's torrid pace has him back in a position to reach yet another peak in what is almost inarguably the best contract year in MLB history.
Judge is now hitting .366 from Aug. 1 to Thursday, which has contributed to his overall average of .317.
MORE: Why the Yankees haven't extended Aaron Judge before 2023 offseason
Judge's biggest threat now is, of course, Bogaerts, who has been near the top of the leaderboard all season.
Since MLB finally added Negro League records to the MLB record books, the list of Triple Crown winners has expanded, but the feat is still exceptionally rare.
There have been 18 Triple Crown winners in MLB history, with Rogers Hornsby and Ted Williams being the only players to have done it twice.
Of those on the list, only Heinie Zimmerman, Tip O'Neill, and Paul Hines are not in the Hall of Fame. O'Neill, for his part, is part of the Canadian Baseball Hall of Fame. Cabrera, of course, is not a Hall of Famer but has a one-way ticket to Cooperstown upon his retirement.
MORE: What to know about Aaron Judge's home run chase
Here's a look at who the Yankees have for the remainder of the season.